"Now, now, now, Liz."  <—- That's me talking to me.
You see, I'm a glass half-empty kinda person, so my immediate reaction to most everything is negative, and I have to roll my eyes at myself and spin that negativity right 'round into a positive.
That's why I like the Get Happy app for iOS. It's full of logical tips that set me straight, and help me turn an "absolutely not" into an "ok, that makes sense".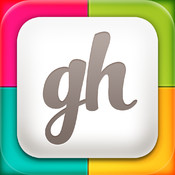 The tips are broken down into four happiness categories: relationships, leisure, personal growth and work & education, and the cheerfully colored icons sorta remind me of my blog!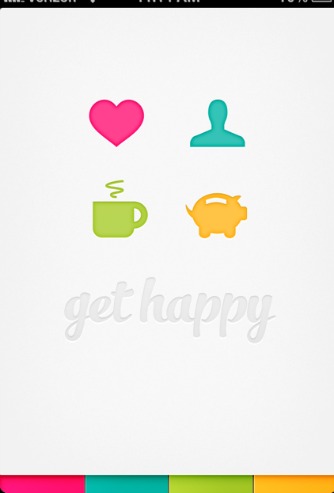 The first thing you do is rate your happiness level  for each category on a sliding scale, then click the little blue check mark to save the results.  (You can change the ratings whenever you want though.)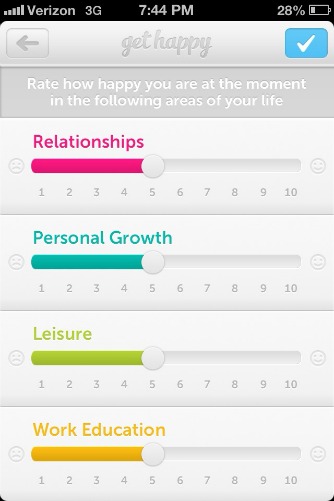 The app uses that information to compile a list of relevant tips to help guide, inspire and motivate you to make changes that will lead to greater happiness!
Sound corny?  I thought so too at first. (Glass half-empty, remember?)
But the app was developed by a practicing clinical psychologist, so how could I turn my nose up at 99-cent ther-app-y? (the cost of the app)  😉
Plus they won me over with the very first tip they showed me: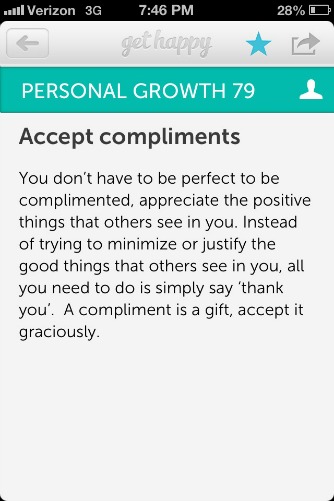 Ummmm, I'm a compliment deflector extraordinaire! I needed this reminder! So I added it to my favorites by tapping that little star up top. (It turns blue when it's a favorite.)
The app also prioritized a list of tips based on my ratings scale and with a tap, I could see each one in its entirety and share them via email, Twitter and Facebook.
If you let it, the app will also send you tips, the most frequent being daily.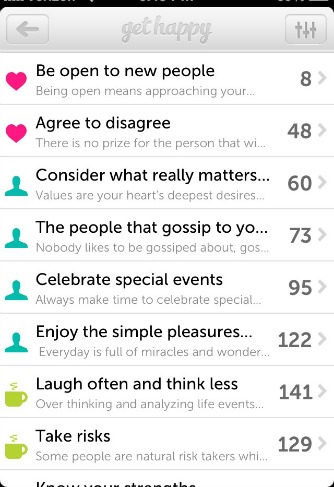 If you have a specific area for which you'd like some tips and advice (e.g. jealousy, love, health), you can use the search bar to pull up relevant results.
Will the Get Happy app itself make you happy?
Of course not, but it's an evidence based app, and the simple and effective tips it provides can help you learn the skills to deal with difficult thoughts, feelings and situations in your life, thus nudging you towards more happiness.
And I'm all about gettin' me some more of that happy!
The Get Happy app is available for 99-cents in the iTunes store and works with the iPhone 3GS, iPhone 4, iPhone 4S, iPhone 5, iPod touch (3rd generation), iPod touch (4th generation), iPod touch (5th generation) and iPad. Requires iOS 5.0 or later.
Compensation was provided for my time. The honest opinion of the app is mine alone.