I received compensation and review products from Chloraseptic for this post. All opinions are my own.
We start the year with the best of intentions to live a good healthy life, and then bam, we're blindsided by a cold or the flu.
When someone you love is feeling under the weather and you'd like to send them get well wishes, try putting together a gift basket of comfort. Stock it with feel-better medicines, comfort items and things to cheer them up. It will warm their heart and be more appreciated than you know!
Make a 'Get Well Wishes' Gift Basket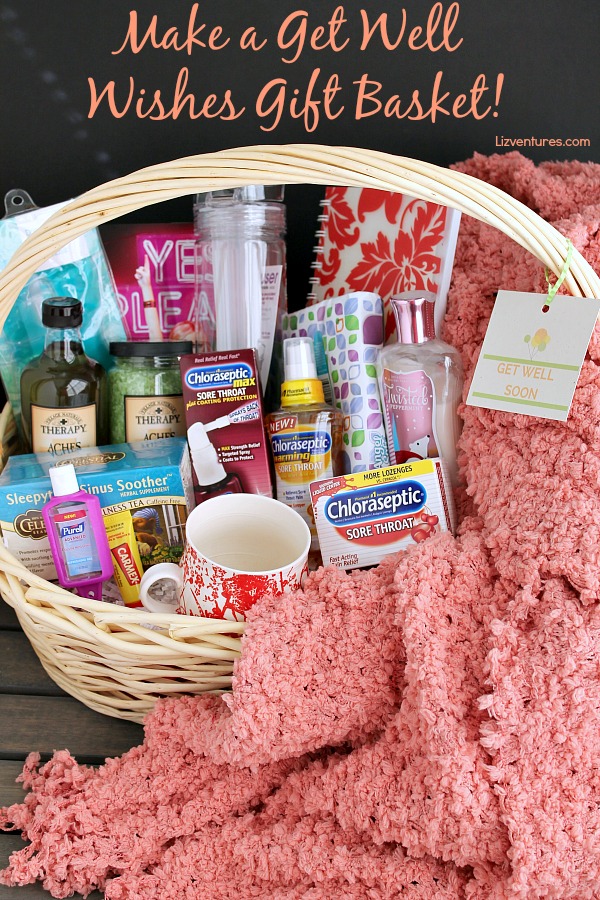 Cuddly Throw – Make it soft and irresistible. When you're feeling blah, hugging a blankie feels awfully good.
Mug and Tea – Pick out a pretty mug and a box of relaxing hot tea.
Tissue Pack – Facial tissue is a must for all the sneezing, coughing and nose blowing that goes along with being sick. I love the medium-sized squishy packs you can find in stores now.
Water Bottle – Drink liquids, drink liquids, drink liquids. Got it?
A Good Book – A cheery book can do wonders to pass the time. I love the book Yes Please
by Amy Poehler. It's hilarious!
Lotion – Not only does lotion help keep skin feel healthy and moisturized, but a great scent like peppermint perks you up.
Chloraseptic® Spray and Lozenges – The sore throat part of illness is often worse than the illness itself. Chloraseptic is the #1 Pharmacist Recommended Sore Throat Relief brand * for the whole family. Trust me. This kind of immediate pain relief will be greatly appreciated. (*Lozenges tied for #1)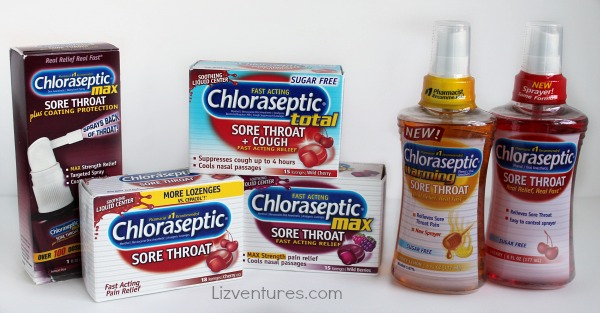 During cough and cold season, Chloraseptic® throat sprays and lozenges provide crucial on-the-go relief while traveling, visiting family and during the busy holiday season.

Chloraseptic® Sore Throat Lozenges, with a soothing liquid center, provides fast-acting relief for sore throat and mouth pain and Chloraseptic Total cools the nasal passages as well.

Chloraseptic® Sore Throat sprays provide fast relief on contact. Sprays come in a variety of flavors including Cherry, Warming Honey Lemon, Grape made just for kids and Max Wild Berry with a target sprayer.Eye Gel Mask – For cooling relief from fever and headaches.
Lip Balm – Helps keep chapped lips at bay.
Mints – Dry mouth and stale breath can make one feel even ookier. Having a few mints on hand for a quick refresh is a good idea.
Notebook and Pen – A pretty new notebook and pen is a really cheery touch to a gift basket.
Hand Sanitizer – A small container of hand sanitizer is a good thing to have nearby.
Mineral Bath Soak and Bath Oil – Soaking in a nice warm bath when you're under the weather is so soothing and helps ease aches and pains.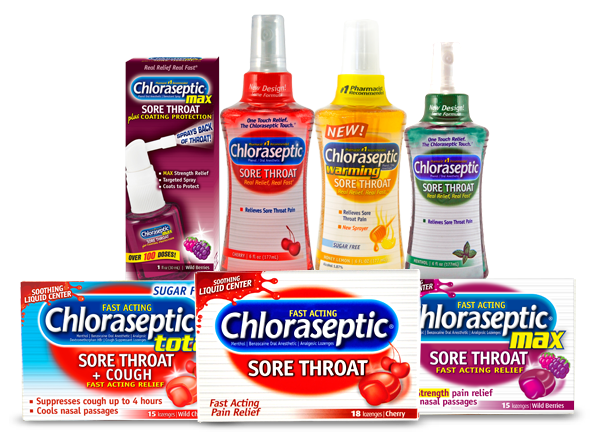 What else would you put in a 'Get Well Wishes' gift basket?