Have you ever seen the gift baskets from Gourmet Gift Baskets?
Wow.
I'll be honest. I've actually never shopped for gift baskets before, so I had no idea how impressive they could be, and I was pretty blown away by what's available.
There's a gift basket for every theme, every occasion, and every taste imaginable! I spent a long time looking through them, and some of them were irresistible to me.
And the thing is that when you find the kind of gift basket you like, you can make it a premium basket or scale it back a little bit to work with a tighter budget. I love that!
You want one now, don't you? Well, that's a good thing, because Gourmet Gift Baskets is going to give one of you this amazing Christmas gift basket!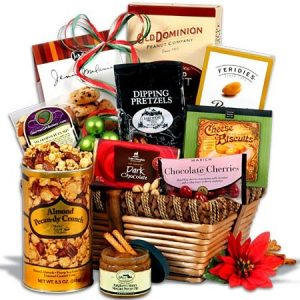 GIVEAWAY!
One lucky winner will receive the Christmas Gift Basket Classic ($59.99). (After you enter here, head over to Thanks, Mail Carrier. She's giving one away too!)
(Rafflecopter entry form below is in javascript so it may take a few seconds to load.)
No compensation was received for this post. All prizes will be provided by Gourmet Gift Baskets. Opinions expressed in this post belong completely to me.