I'll never forget it. I was in my home town visiting my parents, and I ran to the drugstore to pick up who knows what, but I decided to just carry my six-month old daughter in my arms while in the store. After all, this was going to just be a run-in-and-run-back-out kinda thing.
So we were in the store grabbing the whatever, and I ran into a childhood friend, and there was no way I could pretend I hadn't seen her. (Not that I would ever do that.)
So nice to see you… this is my baby girl… how have you been… say hello to your mom and dad…and then it happened.
An eruption of milky vom.
It began at shoulder height and then cascaded  in giant waves down my arm and into my hand.
I frantically tried the Grab Gag aka "Mano y Vomo" method of containment as I sprinted for the paper towel row where I ripped a roll open like a common thief, and sopped up as much of the mess as I could. Then I awkwardly proceeded to the register with the curdled and soured paper puffs, threw down a couple of dollars and disappeared from town.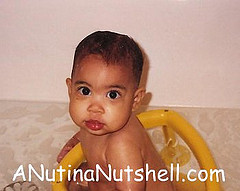 True story. Made-up words. But I found them in the Clorox Ick-tionary! It's full of names and definitions for the icky and unexpected moments in life, the kind you can joke about later.
Check them all out at icktionary.com where you can also play games and win coupons while supplies last!
Share your parenting ick moment for a chance to win a $250 Spa Day from Clorox! Visit www.icktionary.com to learn the new language for ick and how Clorox® cleaning and laundry products can help you tackle the next icky situation in your home,
 This post is brought to you by The Clorox Company.  I have partnered with them to spread the word about Clorox's Ick-tionary program. To share Ick-tionary terms and real life messes, visit www.icktionary.com.  All opinions and stories are my own. Official Sweepstakes Rules