As someone who far and away prefers veggies to fruit, the Green Giant and I rendezvous in the kitchen several times a week (and sometimes every day).
I just can't get enough of the big lug and his particular shade of green.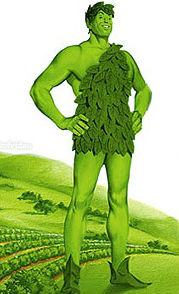 But my dalliances with the green one have always been at meal time alone, so when he told me that he had #AGiantSurprise for me, never did I think he would be so bold as to suggest a meeting at snack time!
But it's true. The Green Giant has introduced new Veggie Snack Chips and they're perfect for people who love to snack (like me) but prefer a more nutritious option (also like me).
Two flavors:
Roasted Veggie Tortilla Chips in a Zesty Cheddar Flavor
Multigrain Sweet Potato Chips – Sea Salt Flavor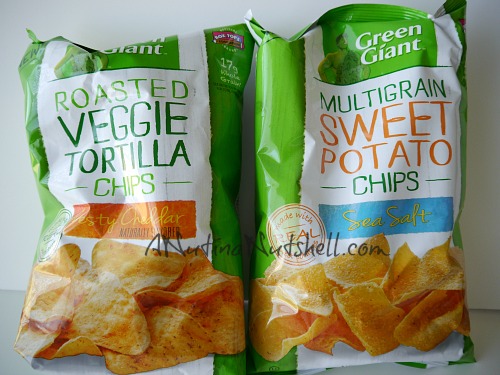 I busted both bags wide open at the same time and noticed that the chips had that distinctive whole grain speckled appearance, so I looked to see how many whole grains were actually in each serving.  (Tortilla Chips – 17 grams and Sweet Potato Chips – 14 grams)
Not bad for a snack!
So anyhow, I bit into one of the Sweet Potato Chips first.  A quick touch of sea salt tickled my tongue and then the chip settled in with a hearty sweet potato flavor.
With 40% less fat than regular potato chips, I feel pretty darn good about snacking on these!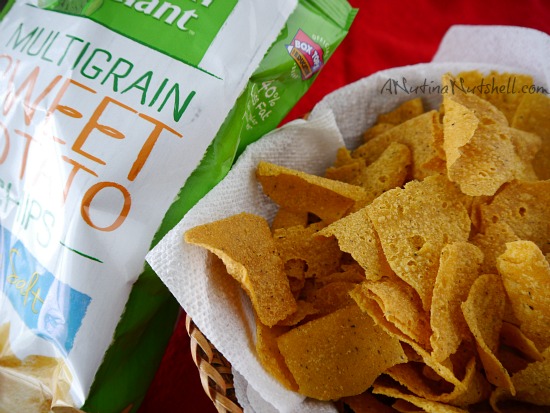 I was a little scared to try the Roasted Veggie Tortilla Chips, because when I looked at them they reminded me of another tortilla snack chip that most people like, but I despise, for both the taste and horribly obnoxious smell.
However, I was shocked (truly shocked) to find that I loved these Zesty Cheddar chips. They have a snappy and natural cheesy flavor with an appetizing aroma. Whew.
Most surprising to me of all is that I liked them even better than the Sweet Potato chips. Who'd a thunk it?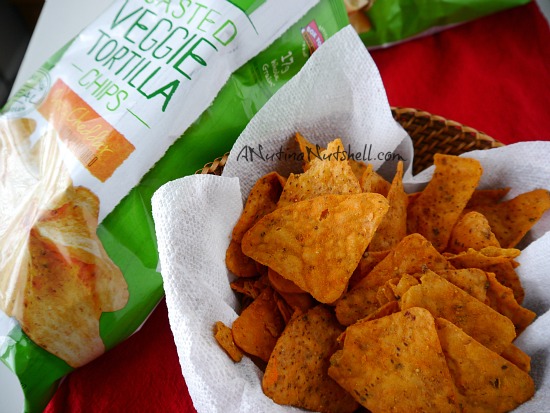 And also, who knew the Green Giant was capable of such surprising talents? Speaking of which, Green Giant is showcasing the surprising talents of people like you and me (aka stupid human tricks).
I saw one where this girl was jumping rope while balancing on a huge rubber ball. What the what? Check them out on Facebook or YouTube and you can upload your own secret talent if you have one.
Wanna know mine? 
I can move my eyes back and forth all rapid-fire style, and people tell me it looks pretty wild.
And no, I won't show you.
Which flavor would you like to try first? And do you have any special talents?
Thank you to The Green Giant™ for being a sponsor. Show the Giant your surprise talent at www.facebook.com/greengiant