With Hasbro's STAR WARS Fighter Pods, players spin, launch, and roll fighter pods trying to knock down as many STAR WARS figures as possible.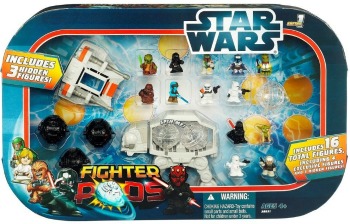 Spin!
Launch!
Roll!
My favorite way to battle is by spinning the pods just because it's fun, but if I really want to take some figures down, rolling makes quick work of it for me. 😉
For extra power, connect the pods together or harness the force of the characters by putting them on top of or inside the pods. How you battle is up to you!
Let's face it. Imagination is all you need! And these little guys are just so stinkin' cute.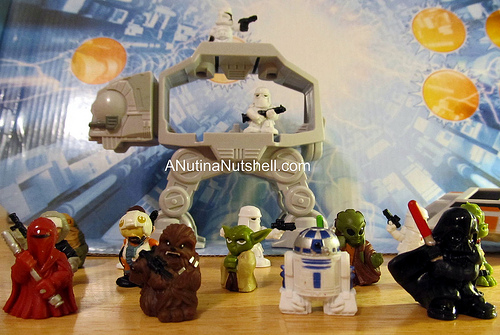 Each set (sold separately) includes 16 figures, 2 vehicles and 6 pods. There are over 100 STAR WARS Fighter Pods figures available, so kids can collect and trade! Plus, each set comes with a little checklist of characters and their names so kids can keep track of which ones they have and which ones they still want.

Buy It! STAR WARS Fighter Pods are available at major toy stores and online at Amazon
. The Series 1 set shown here currently sells for $31.95.
Note: The figures are very small, so this is not a toy for children under the age of 4.
I received a media sample for review, but all opinions and thoughts of the product are honest and my own.