'Fess up.
Do you put a priority on your health?
Or do you pretty much ignore it until there's a health scare of sorts?
I suspect many of us fall into the second category. Myself included.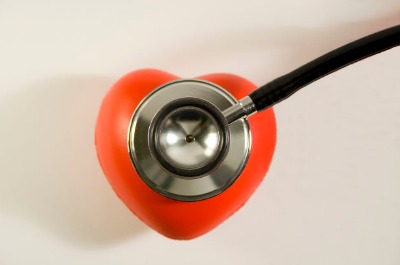 A few years ago, I got a wake-up call with an alarmingly high cholesterol count. With heart disease being responsible for many of my family members' deaths, it scared the crap out of me.  And I changed my life.
Since then, I've slipped back into my old patterns, but I know I have to re-focus. I know my life depends on it. I want to spend time hanging out and having fun with my kids, not dealing with and spending money on preventable health care issues.
I need to live smart. We all need to live smart, which is why Parents. com created an interactive Live Smart page in conjunction with HealthyIsAetna.com to encourage all of us to recommit to our health.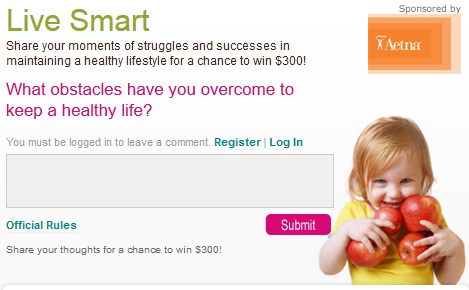 The page is designed to be conversational in tone, with a question asking, "What obstacles have you overcome to keep a healthy life?" And just for submitting your response, you have a chance to win $300!
Also living on the page is an interactive poll, and if you click on the answers, it will take you to a downloadable guide with tips on healthier living as well as money-saving health care tips.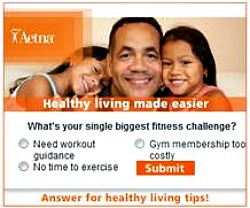 (For some reason, I couldn't see it on the page myself, so I'm including the links to the guides here, just in case you have the same problem.)
**Low/No cost options to keeping you moving – http://hs.interpolls.com/s/aetna/pdf/Aetna_Fitness_A.pdf
**Fitting exercise into a busy schedule – http://hs.interpolls.com/s/aetna/pdf/Aetna_Fitness_B.pdf
**Understanding good fitness basics and terminology – http://hs.interpolls.com/s/aetna/pdf/Aetna_Fitness_C.pdf
Wishing you all a Happy, Healthy Holiday season!
GIVEAWAY!
One lucky reader will win a "Healthy Holiday" gift package compliments of Parents.com (ARV $125+) containing: A $100 Visa gift card to help you get those nutritious ingredients for your holiday meals, a gorgeous Thanksgiving cookbook by Williams-Sonoma, a GOSmart Pedometer, and a sample of Yogi Tea to keep you warm and healthy through the winter months.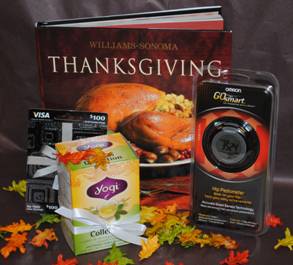 (Rafflecopter entry form below is in javascript so it may take a few seconds to load.)


I received a gift pack and the winner will receive a gift pack. All thoughts expressed in this post are my own honest opinions.