Hershey's Pieces are bite-sized Hershey's favorites surrounded by a crunchy candy shell, and now they have even more yum with the new Milk Chocolate with Almonds Pieces!
And that's a big statement coming from me because I like almonds, and I love me some milk chocolate, but I don't like mixing nuts with…well, anything!
So I was scared when I popped that first candy piece in my mouth. I crunched it, and thought, hey, that wasn't half bad. Then I crunched another and another and another and then never you mind how many 'nothers there were beyond that.
I promise I didn't eat them all in one sitting though, because there are a TON of them in the bag! Good thing it's resealable.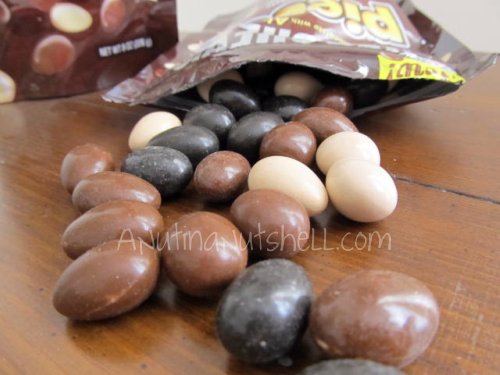 So, Hershey's, well played, my chocolatier friends, well played. These are delicious!
GIVEAWAY!
Three lucky winners will each receive a bag of Hershey's new Milk Chocolate with Almonds Pieces!
I received a media sample for purposes of the review. No other compensation was provided, and the opinions expressed in the post are completely my own.