Everyone loves to eat, especially over the holidays, and that's why holiday food gifts are so popular!
When I was little, my parents received sausage and cheese gift baskets from The Swiss Colony every holiday season, and my five siblings and I would gather around to take a taste of everything! Nom nom nom.
Have you ever tried their cheese spreads? Sooooo good. Those are my favorite!
But they've got a little of everything!
Although I am really hooked on their cheese, this month I satisfied my sweet tooth with the Triple Berry Cheesecake. Doesn't that look divine?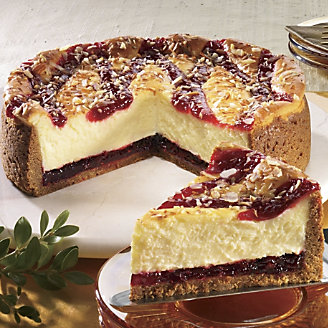 I couldn't wait to dig into it when it arrived, so I didn't. I literally had a slice on a plate within 5 minutes of its arrival.
The creamy cheesecake sits atop a fruity layer of blueberries and raspberry jam, and the top is drizzled with strawberry jam and almond flakes. The entire confection rests on a flaky graham crust.
It all adds up to yum, yum, yum!
And you might think I'm crazy for this, but my favorite part was the crust. Maybe it's the fruit juices seeping into it, I have no idea, but it's the most delicious graham crust I have ever had. Simply amazing.
And you know how you usually get sick of something after you've had a few pieces? Ohhhhhhh no. Not with this. I liked it more with every slice I had, and that hardly ever happens to me.
Buy It! You want one now, don't you? Order it from The Swiss Colony for just $35.95 for yourself or for a gift!
GIVEAWAY!
One lucky winner will receive the Triple Berry Cheesecake from The Swiss Colony. (After you enter here, head over to Thanks, Mail Carrier. She's giving away a Chocolate Brownie Cake!)
(Rafflecopter entry form below is in javascript so it may take a few seconds to load.)
I received this item free of charge from The Swiss Colony. No monetary compensation was received or offered, nor was I under any obligation to write about this product. All opinions expressed are my honest thoughts. I am not offering any sales or taking orders for this item. I will not receive any compensation in connection with any sales of this item.