I stink at math. My kids stink at math. We are math stinkers.
Thank heavens for calculators, right? How would anyone get their math homework done without one?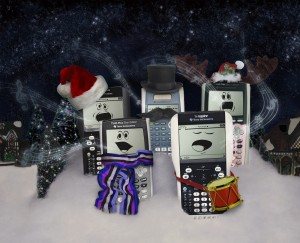 When my kids entered high school I bought each of them a graphing calculator from Texas Instruments as recommended by the teachers. I wasn't happy about it because they're expensive, over $100 each.
However, I have to admit that those calculators were the absolute best investment in a learning handheld that I have ever made. They could not have survived their algebra, geometry, and calculus classes in middle school, high school and college without them. No way.
Now Texas Instruments has added the TI-Nspire to their line of quality calculators, and I just had the chance to check it out.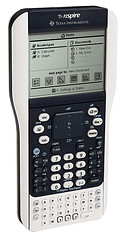 I'm not even going to pretend to you that I know how to work it beyond the most basic of operations. I stink at math, remember? But, I did manage to turn it on and take a little look-see at some of its coolness.
The easy-glide touchpad is a feature today's technology-minded kids will love. It functions just like the mouse/touchpad area on a laptop, and makes moving from option to option a breeze. It's an excellent upgrade.
The Nspire comes with software which enables a computer to function just like the handheld calculator, so students can view their work in a larger, easier to see format. Documents are easily transferred between computer and calculator.
I also noticed that the keyboard is interchangeable with the TI-84 keyboard (which is available at no charge through the mail.) This gives kids the option to use whichever keyboard they're comfortable with.
Another cool thing about the Nspire is that it has a scratchpad which allows students to make quick calculations and graphs without having to save them.
And as with the previous TI graphing calculators, the TI-Nspire is approved for standardized exams. (PSAT, SAT, ACT, AP and Praxis)
My Thoughts: Texas Instruments makes superb graphing calculators and they are built to last. I give them my absolute highest recommendation. If you are in the market for a student calculator with graphing capabilities, I strongly suggest you spend the few extra dollars and buy one from Texas Instruments, and the TI-Nspire is fantastic!
Buy It! You may purchase the TI-Nspire directly from Texas Instruments, from Amazon, or in stores like Best Buy, Staples, and Office Depot.
Win It! Texas Instruments has been unbelievably generous and is allowing me the opportunity to give one of their TI-Nspire calculators to a lucky reader.
Giveaway Rules
Required Entry: If you are the lucky winner, who will be receiving the TI-Nspire as a gift?

Optional Extra Entries (After you've done the required entry, you may do as many of these extra entries as you would like, but leave a separate comment for each entry.)
Like TI Calculators on facebook – 1 entry (leave username)
Follow @TICalculators on twitter – 1 entry (leave username)
Follow me publicly on google friend connect – 1 entry
Subscribe by email (must activate) – 1 entry – (leave comment with email address)
Follow A Nut in a Nutshell on networked blogs – 1 entry (leave username)
"Like" A Nut in a Nutshell on facebook – 1 entry (leave username)
Click to donate water (widget on sidebar) – 1 entry (leave email address used)
Follow me on twitter @blueviolet – 1 entry (leave username)
Tweet the giveaway- may be done once daily – 1 entry (leave direct url to tweet) copy and paste the following: #Win the new TI-Nspire student graphing calculator w/ touchpad ($150 Value) Enter at A Nut in a Nutshell #giveaway http://bit.ly/fYUPrS

Enter any of my active giveaways (listed in right sidebar) – 1 entry each
Add my blog url to your text blog roll – 2 entries (leave link and 2 comments)
Add my button to your blog – 2 entries (leave link and 2 comments)
Add my Holiday Picks button to your homepage – 2 entries (leave link and 2 comments)
Blog about the giveaway – 3 entries (leave link and 3 comments)
You have until 11:59 pm EST on January 3, 2010 to enter. One lucky winner will be randomly selected. I will email the winner and they will have 48 hours to respond to the notification email, or a new winner will be chosen. Entering this giveaway means you are in agreement with this blog's Terms of Use policy. Open to US residents. Good luck!
I received a TI-Nspire in order to write the review and one will be provided for a giveaway winner. No other compensation has been received. This post contains my own honest and uninfluenced opinions.
WINNER: Katherine Snyder