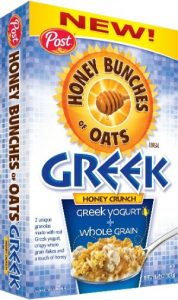 Honey Bunches of Oats Greek Honey Crunch cereal is dang good, so dang good. It's loaded with crunch!
It has two unique granolas made with Greek yogurt, crispy whole grain flakes and a touch of honey.
And crunch, lots of crunch!
It's full of Greek yogurt pieces…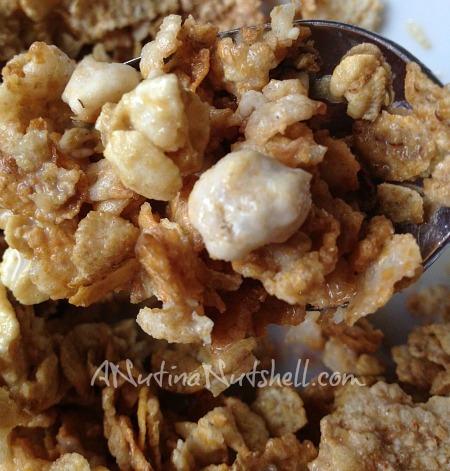 ..and granola clusters..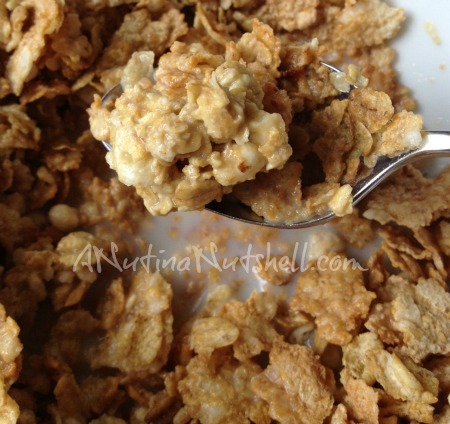 …and crispy whole grain flakes in every bite.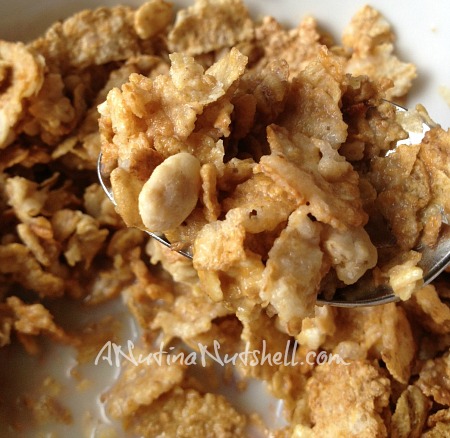 Bonus: It's a cereal the whole family will enjoy! Kids will just love the way it tastes, but adults will appreciate the nutritious boost of 33 grams of whole grains, 12 essential vitamins and minerals, and 5 grams of protein.
Now when I say it's made with Greek yogurt, you might be thinking it has that same "tang", but it doesn't, so don't be afraid to try it if you're afraid of that. I'd say the taste leans toward the sweet side, which is why kids probably love it.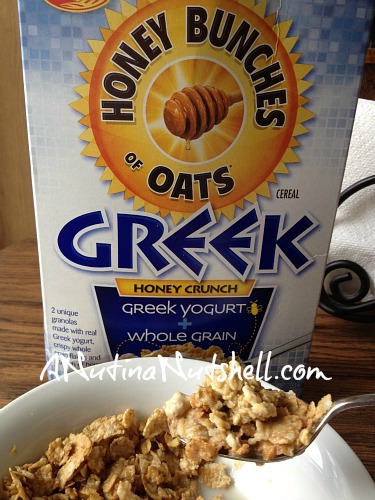 Another bonus to me is that it's one of very few cereals where the serving size (1 cup) is actually a satisfying amount of cereal. I guess it's because it's chock full of all those whole grains? (more than two-thirds of daily requirements) Who knows…but I'm happy about it.
That being said, I'm a calorie counter so I'd be remiss if I didn't mention that there are 230 calories in a serving, not an unreasonable amount, but about twice what I usually look for in my cereal. There are 13 grams of sugar vs. 6 grams in the regular Honey Bunches of Oats, so perhaps that has something to do with it.
Because it's such a satisfying fill-me-up cereal though, I'd feel really good sending kids off to school after serving this for breakfast. It's totally worth enjoying, maybe just not every day.
Visit the website for a $1 off coupon to try Greek Honey Crunch, the newest of the 12 varieties of Honey Bunches of Oats!

Be sure to connect with @HBOats on Twitter and Facebook too!
Do you like "crunch" in your cereal too?
I am part of the Mom It Forward blogger network. Mom It Forward and Honey Bunches of Oats partnered in support of this campaign. Honey Bunches of Oats compensated me for participation in this campaign. However, all thoughts and opinions are my own.