Y'all know that as a Hormel blogger, I'm sent a few products each month which I can choose to write about, cook with, or completely ignore. (Ok, I made up that last part.)
So the most recent box brought me three new cheesy pasta Hormel Compleats microwave meals, and since one was more than enough for me, I invited my "he" over for a cozy two-fer lunch.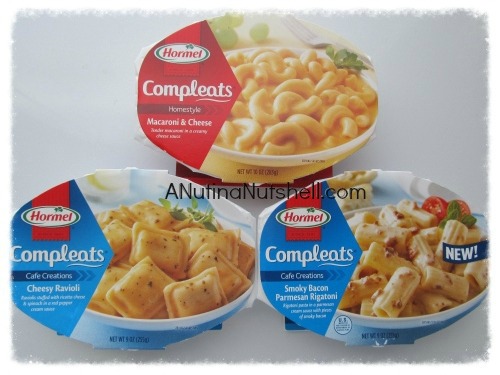 I made short 60-second work of heating them up, and we got right to tasting. (Separate bowls, separate forks, separate homes. I ain't crazy.)
 The new real cheese flavors are available in:
Mac and Cheese
Italian Herb and Cheese Rigatoni
Three Cheese Chicken Pasta
Cheesy Ravioli
Creamy Cheese and Basil Tortellini
Smoky Bacon Parmesan Rigatoni
The one I thought I'd like the most is not the one I liked the most, but I did like them both. Confused yet?
The Cheesy Ravioli – raviolis stuffed with ricotta cheese and spinach in a red pepper cream sauce.
This was my favorite of the two I tried. The raviolis were a good size and didn't separate or leak out filling until I cut them open. The sauce was thick and flavorful, and although I prefer a red sauce with my ravioli, this was a nice change of pace.
Smoky Bacon Parmesan Rigatoni – rigatoni pasta in a parmesan cream sauce with pieces of smoky bacon.
There are lots of chunky bacon pieces in this meal; I'm glad they didn't scrimp on it. The sauce was very thick and gravy-like, a little heavy for my tastes, but still full of flavor and there is a ton of pasta in the meal. I was a little disappointed about how it collapsed and broke apart into pieces though, so maybe it was a little overdone.
In spite of the fact they have a good taste, the moment I read the nutrition facts I knew that I wasn't the target audience for these meals. I'll be honest and say those numbers simply don't line up with my personal dietary needs.
Although I  won't be buying them for myself, I have already bought them for my son, because they're hearty and filling meals which are fully cooked in 60 seconds. (I buy him the entrees with meat though.)
They're also shelf stable making them perfect for care packages, and I don't have to worry about where he'll be storing them when they arrive.
Oh how I love sending that boy care packages!
These make a quick meal on busy days. Do you have a favorite, quick lunch dish?