Although I'm not as in love with my kitchen table as I used to be, I am very, very much in love with the little people who have sat with me and made memories there, my kids.
So as much as I'd love to replace the table with something more modern, the memories bind me to it.
We bought it when our oldest was still itty bitty, and she would sit there working on craft projects and just chatter on about anything and everything that went through her mind.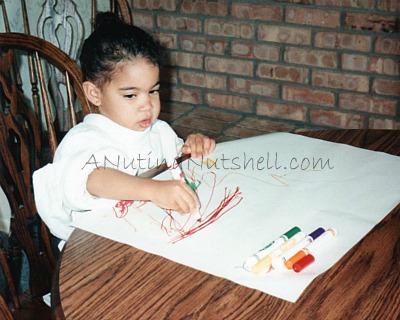 And the table has since followed us to more than a dozen different homes. It's been through holidays, family visits, birthdays, and everything in between.
Most of the chairs sit empty around it now since the kids have gone off to college and beyond, but  when they visited over Memorial Day and sat at the kitchen table with me again, it did my heart a world of good.
I love my kids, I love my memories, and doggone it, I think I still  love my kitchen table.
 Share a photo of your kitchen table and how it has helped create memories on the Recipeasy Facebook page and Hormel Foods will donate $1 worth of products to Feeding America, the nation's leading domestic hunger-relief charity. If you share that photo with your friends, they'll donate another $5 worth of products!
I'm a Hormel Foods blogger, but no compensation has been received and all opinions are my own.