Hosting holiday guests is always fun, but the extra organizing, cooking and cleaning beforehand… that part can be totally stressful!
I thought I'd share some holiday hosting tips from entertaining expert Jenny Steffens Hobick and Hampton Hotels. Here's hoping the tips will help you maximize your hospitality and create lasting moments with your arriving friends and family, whether they're staying in your home or in a nearby hotel.
Hampton Hotels believes in celebrating the little moments that make a big difference.

5 Principles of Hamptonality: 

 Unexpected Delight
Being Anticipatory
Sharing a Compliment
Providing a Moment of Humor
Showing Empathy
Holiday Hosting Tips 
Tip 1: Be the best OFF-SITE host ever… (This is TOTALLY a tip for me!)
Let's be honest. You love your friends and family, but cramming everyone into your house for days at a time can be stressful and add to your already lengthy holiday host to-do list!
If you simply don't have enough room to host all of your holiday guests or you just think everyone would be happier with their own, comfortable space, consider booking them at your local Hampton. With more than 1,900 locations, Hampton is the perfect place to stay no matter where your guests may be traveling from.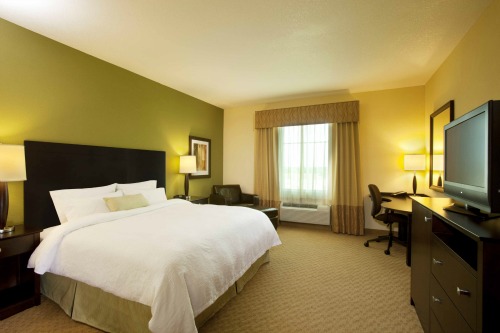 Tip 2: Stock up on extras
Don't forget to stock up on extra necessities like shampoo, soap, toothbrushes, contact solution, and other toiletries that guests tend to forget! Take a cue from your local Hampton and anticipate everything that your guests may need and put a basket chock full of products right in their bathroom or bedroom.
Tip 3: Surprise your guests with welcome treats
I always like to make sure my guests know how excited we are to have them for a visit by surprising them with a little treat when they arrive. One of my favorite ways to greet them is with something personalized with their name on it, like a decorated sugar cookie or a festive welcome sign. I love staying at Hampton Hotels because they take a similar approach. They often add a personal touch for a guest's stay by offering a favorite local snack or fun local item when guests check in.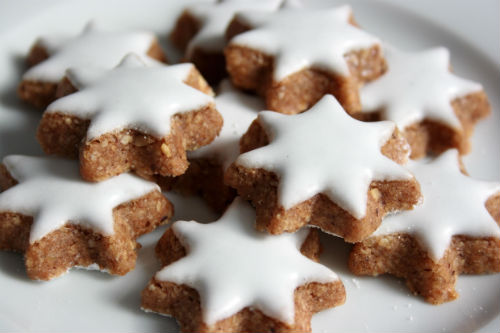 Tip 4: Make time for resting
The holidays can be very exhausting – especially for your guests who have traveled near and far.  Make sure to schedule down time for resting in the afternoons or early evenings.  An afternoon nap can feel like an indulgent treat for exhausted guests.
Tip 5: Plan one special night for the adults
The holidays are really all about the kids, but it can be really nice for the adults to get some time for themselves, too.  Hire a babysitter for the night for the children (or let the grandparents take over), so the parents can enjoy a special night out on the town.  Everyone (even the kids!) will appreciate a night of freedom.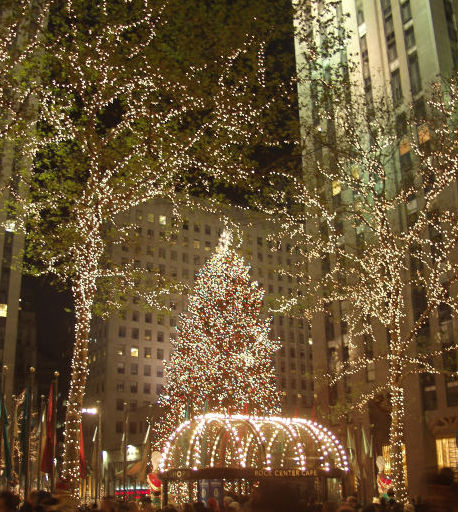 Tip 6: Make time for exercise and fresh air
We all feel better with some fresh air in our lungs. I'd be lost without my daily exercise to clear my head and invigorate my spirit.  Invite your guests on a walk with hot coffee (or hot cocoa!) and everyone will feel refreshed!  Suggest an evening stroll through your local neighborhood to check out the holiday decorations. Guests at Hampton can also get energized and make time for a workout as most locations boast fitness centers and swimming pools.
Tip 7: Be prepared with lots of snacks
We all get a little grouchy when we're hungry – adults and kids alike!  Anticipate those moments by having snacks planned for afternoons and before dinner to keep everyone happy.  Be sure to include fresh options like fruit and crunchy veggies, along with filling cheeses and more decadent treats so you have something for everyone!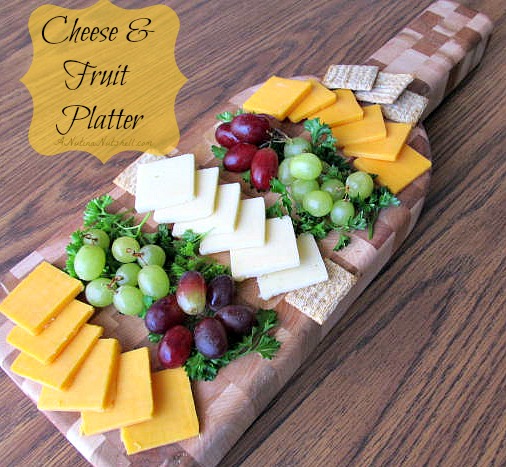 Tip 8: Make your home "help yourself" friendly
Guests oftentimes feel like they are "in the way," so make sure that your home is "guest-friendly" before they arrive. Set up a refreshment center that is available to them daily – coffee in the mornings, bottles of water to take for the day, portable snacks to have at home or on the road, etc. Make a list of local area "hot spots" with their phone numbers and websites that they can easily reference and tack it on the refrigerator. Make a few sets of spare keys, so that people can easily come and go as they please. Basically, be their "at home" concierge.
Tip 9: Plan fun games
The best memories over the holidays are when everyone is relaxing, laughing and having a great time.  You can help orchestrate these moments by planning fun games in which everyone can participate.  You can host an Ugly Sweater Contest, A Christmas Carol Sing-Off, or Gingerbread House Competition during one of your "at home happy hours."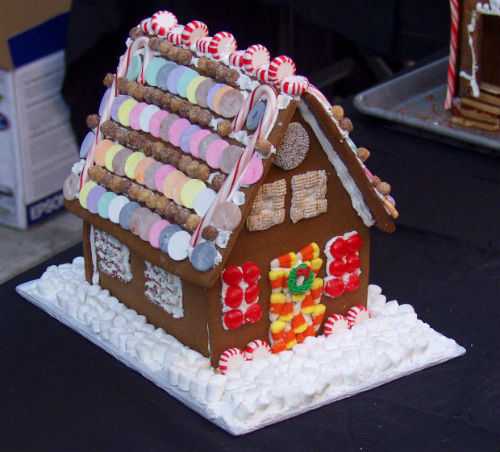 Tip 10: Make your guests do some work
Make your guests feel useful by asking them to help with tasks you know they'll enjoy. Give your mother-in-law the ultimate compliment by asking her to help you make her famous chocolate pie for dessert.  If you're hosting young nieces, ask them to help make the table decorations because they're such great crafters. It's a great compliment to your guests to make them feel like they are PART of the activities, rather than just spectating.
Tip 11: Big breakfasts
Serving a big breakfast in the morning seems to make everyone happy! When we host guests, I prepare big bowls of fresh fruit for nibbling on in the morning, and then make some fresh waffles because really, who doesn't love waffles?!? Hampton offers a free, hot breakfast every morning with fresh-baked waffles – the perfect thing to get your day started!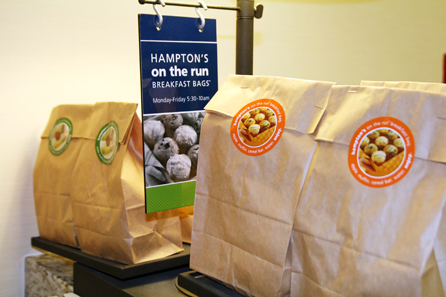 Tip 12: Celebrate past holidays
Another sure way to have everyone in stitches is to get out old home videos and pictures. Everyone will love reminiscing about past holidays… the bad clothes and questionable hair styles always make for great holiday conversation and laughs. Perhaps dig up some old holiday photos of your guests and use that as their "personal touch" when they arrive at your home for their stay.
Did You Know:
There are 1,900 Hampton locations
Free, hot breakfast with fresh-baked waffles
Free wired or wireless high-speed internet access in all guest rooms
Clean and fresh Hampton bed!
Connect with Hampton Hotels:
Website: www.Hampton.com
Facebook.com/Hampton
Twitter.com/Hampton
Instagram.com/hamptonality
GIVEAWAY!
One lucky reader will win a (1) night stay at a Hampton Hotel location.
Compensation was provided by Hampton Hotel via Momtrends. The opinions expressed herein are those of the author and are not indicative of the opinions of Hampton or Momtrends.
RULES: Giveaway ends 11:59 pm ET, December 30, 2013. No purchase necessary. Open to legal residents of the fifty (50) United States and District of Columbia, Eighteen (18) years of age or older. Void where prohibited by law. One lucky winner will be chosen using random.org. One entry per household and IP address. The number of eligible entries received determines the odds of winning. Cheating will not be tolerated, and entries will be verified for accuracy. I will email the winner and they will have 48 hours to respond to the notification email, or a new winner will be chosen. Entering this giveaway means you are in agreement with this blog's Terms of Use policy.