I finally found the hot cocoa-inspired TruMoo Chocolate Marshmallow Milk I keep hearing about. It's available for a limited time only, so if you spot some at a store near you, GRAB IT!!!
It's the essence of hot cocoa with the magic of marshmallows inside. Drink it icy cold from the carton, or heat it for a few seconds in the microwave for a soothing hot cocoa treat. To turn it s'mores-y, dip the rim of your glass into some graham cracker crumbs first!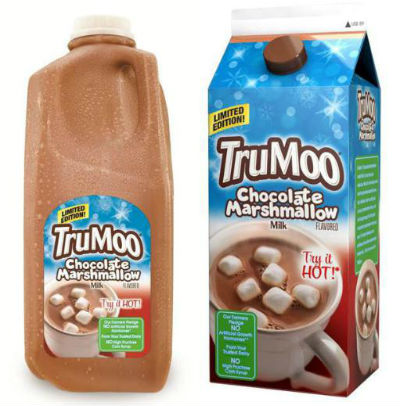 I've been hooked on TruMoo since my kids and I discovered it. As a child, any chocolate milk I had was through the spoon and powder method.
What was I thinking? The rich, velvety taste of TruMoo chocolate milk puts that lumpy, grainy chocolate concoction firmly into my past.
In fact, I liked the Chocolate Marshmallow flavor so much that I used it to make a hot cocoa-inspired chocolate marshmallow pudding!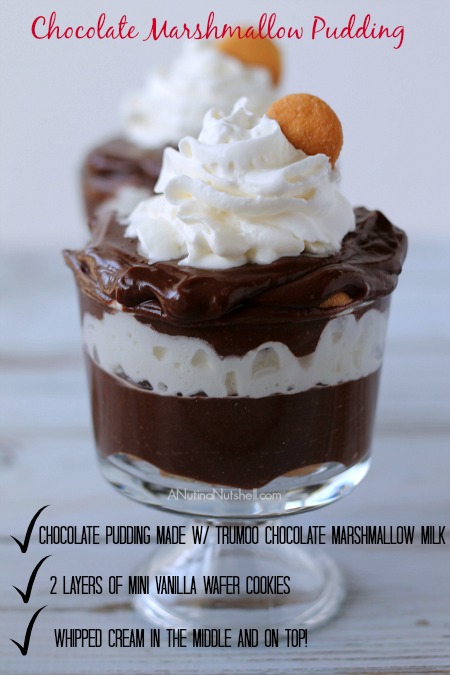 Just use TruMoo in place of white milk when making instant pudding, and you'll get a double chocolate-y boost of flavor! Line the bottom of the dish with mini cookies or graham crackers and then layer on pudding, whipped cream, more cookies, more pudding and finally a twist of whipped cream on top.
(All I had in the house at the time was aerosol whipped cream. I would have preferred to use whipped topping from a tub as it holds up better and contains less air, but I was snowbound and another trip to the store was out of the question.)
TruMoo Chocolate Marshmallow milk is made with fresh white milk sourced from regional dairies around the country, pure cocoa and just enough natural sugar to make it taste great. It's nutritious and delicious!

Contains no Artificial Growth Hormones and no High Fructose Corn Syrup.

Visit TruMoo.com for more information
How would you like to try TruMoo Chocolate Marshmallow milk — hot or cold?