How to keep produce fresh longer… I've been trying to solve that puzzle for as long as I've been buying fresh produce, I think.
And I might just have it all figured out based on the "long live produce" challenge I just completed and won! And when I say I won it, I mean my produce stayed fresh-ity fresh during my whole SIXTEEN DAY experiment.
What's the key to keeping produce fresh longer? Rubbermaid FreshWorks Produce Savers. I kid you not people; they work! They extend the life of your fresh fruits and veggies so they'll keep looking and tasting their very best for longer.
I partnered with Rubbermaid and received a set of three containers to complete the challenge.
Don't you get ticked when you bring home containers of fresh fruits or veggies and by the time you go to use them, they're moldy and disgusting? I can't even tell you how many times that's happened to me. It's not always convenient to buy fresh fruits and veggies the day I need to use them, and for the record, I shouldn't have to!
Sad fact: Americans waste 23 billion pounds (translating to $24 billion) worth of produce each year because it spoils before it gets eaten. That's 187 pounds per household.
So here's what I did for my challenge: I bought fresh strawberries, blueberries and kale from the grocery store. To use the FreshWorks Produce Savers, you simply move the produce from store packaging before refrigerating. I did this with half of the purchased produce and left the other half in the store packaging. All of it went into the refrigerator.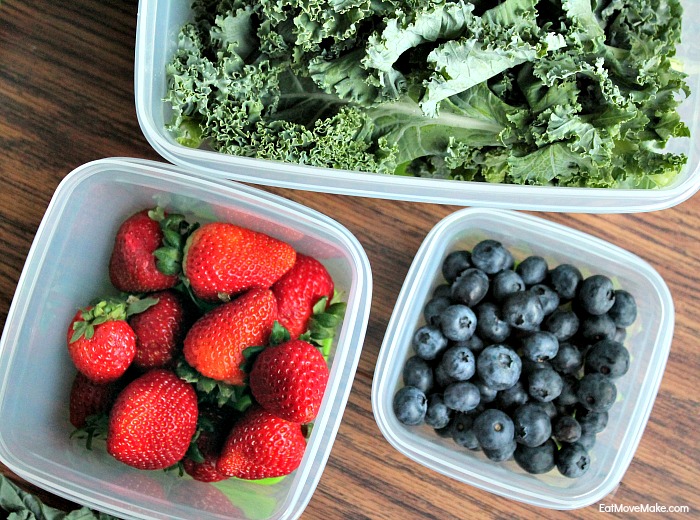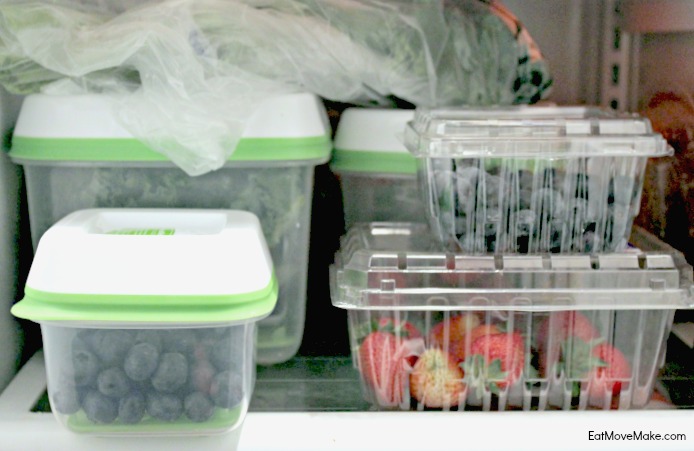 And then I waited sixteen days. Why sixteen? No reason, except I happened to be home and between trips. It was the perfect time to check results.
Produce Freshness Experiment Results
~The most obvious difference was with the strawberries. I have never in my life had strawberries stay fresh this long! The berries in the FreshWorks containers were fresh, tasty and still pretty to look at. The berries in the store container were just gross.
~There wasn't as much of a difference with the blueberries, but the FreshWorks berries were still perfectly plump and hydrated. The store container blues were just starting to dry out and shrivel.
~The kale was still edible in both instances, but it was crisp and perky in the FreshWorks container. The other half was starting to wilt and go limp.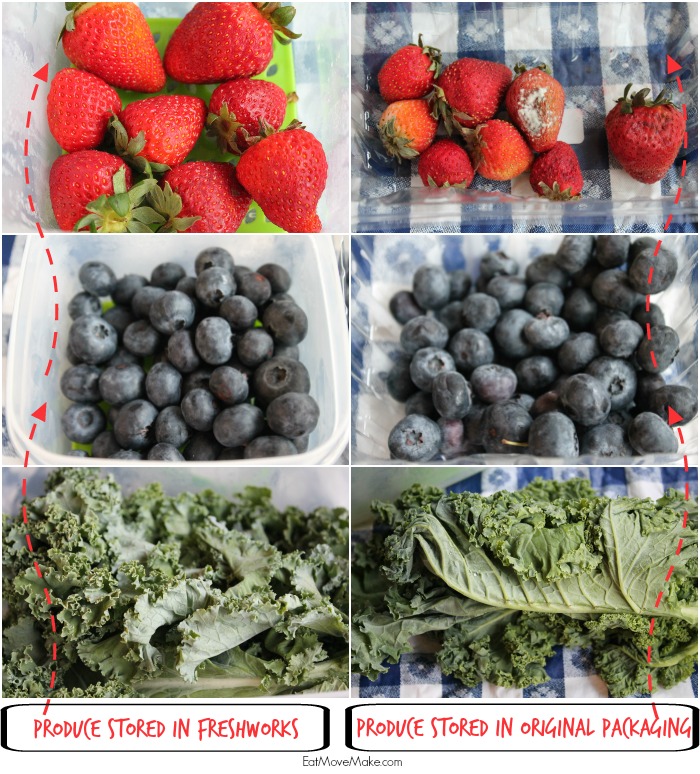 How do FreshWorks Produce Savers work?
The FreshWorks containers use the revolutionary FreshVent™ technology to regulate the flow of oxygen and carbon dioxide, while the CrispTray™ helps reduce moisture and spoilage to keep produce fresher for up to 80% longer.
Available in three different sizes to fit all produce needs:
Small (2.5 Cups): Ideal for small berries
Medium (6.3 Cups): Perfect for strawberries
Large (17.3 Cups): Optimal for leafy greens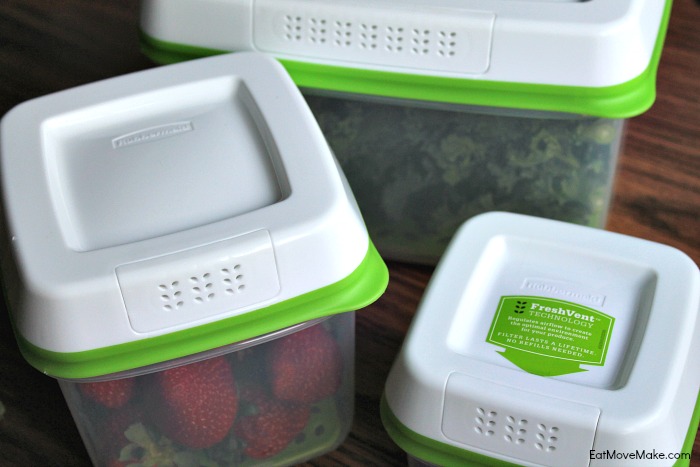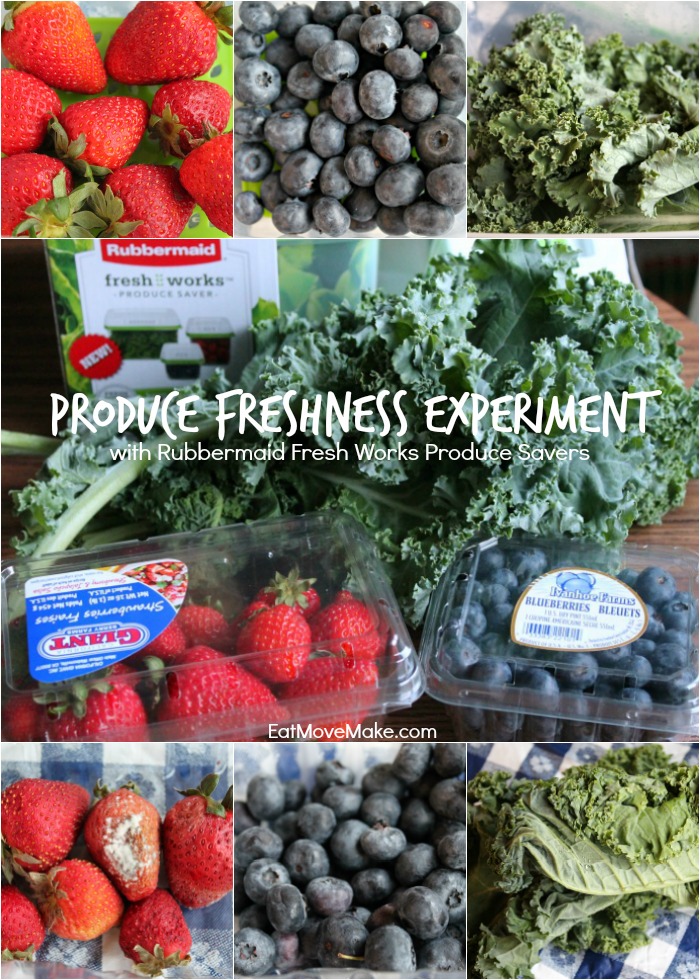 The proof is in the produce!
Get more information on the FreshWorks Produce Savers on the Rubbermaid website here.
Now I'm challenging YOU to switch up how you currently do things. Join me for the 'Long Live Produce Challenge' to see how much longer you can make your produce last!
GIVEAWAY
One lucky reader will win a set of three Rubbermaid FreshWorks Produce Savers.
Post and prizing sponsored by Rubbermaid. All opinions are my own.
RULES: Giveaway ends 11:59 pm ET, August 2, 2016. No purchase necessary. Open to legal residents of the fifty (50) United States. Void where prohibited by law. One lucky winner will be chosen using random.org. One entry per household and IP address. The number of eligible entries received determines the odds of winning. Cheating will not be tolerated, and entries will be verified for accuracy. I will email the winner and they will have 48 hours to respond to the notification email, or a new winner will be chosen. Entering this giveaway means you are in agreement with this blog's Privacy/Rules/Terms of Use policy.