How to use apple cider vinegar… that's something I set out to learn over the last year because I bought some for a specific purpose (see #5 below), but then had no idea what else to do with it.
And to make it all more complicated, I had to figure out the difference between filtered and unfiltered apple cider vinegar.
Apple cider vinegar is made from fermented apples and is pleasantly mild with a slight apple taste making it surprisingly versatile in comparison to white vinegar, which has a very strong, sour flavor.
Unfiltered apple cider vinegar is in its most natural form because it still has the "mother" in it which gives it a more murky appearance. It's also the kind most people will reference when talking about the health benefits of apple cider vinegar (something I'm not familiar with yet).
In terms of cooking, I really can't tell the difference in taste so I just go with my preference, which happens to be unfiltered, mostly because I feel like the closer to natural it is, the better. But if you don't like floaties, go with filtered.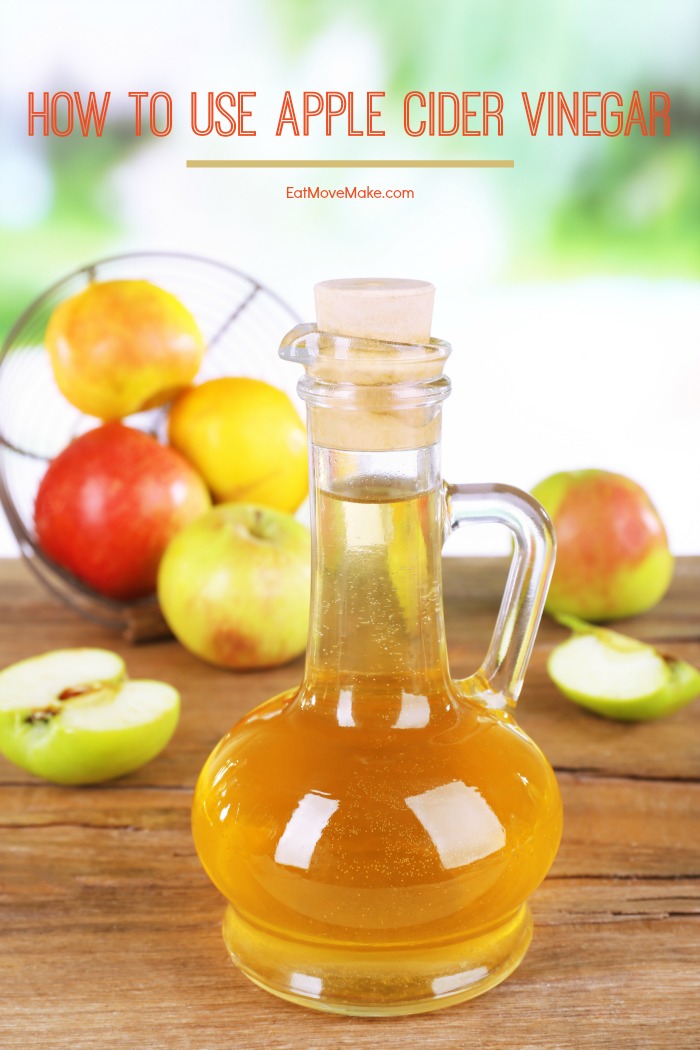 How to Use Apple Cider Vinegar
1. Deglazing 
Apple cider vinegar is my go-to for deglazing all those little chunks of yum that are stuck to the pan. I especially love it for onions, garlic and pork.
2. Pickling
Use it when making lightly pickled vegetables for appetizers.
3. Salad dressings, marinades and sauces
Apple cider vinegar adds a zippy boost of flavor, which makes it a wonderful recipe ingredient. A few ideas to start with:
It makes a fantastic ham or pork glaze and when mixed with melted butter, it makes a wonderful sauce for fish.
Summer fruits like blueberries, peaches and strawberries are enhanced when tossed with a bit of apple cider vinegar, honey and vanilla.
Blend with a little olive oil and garlic and spritz over steamed green beans, broccoli, zucchini or spinach.
4. Cleaning
Use equal parts water and apple cider vinegar in a spray bottle for disinfecting and cleaning sinks, faucets and countertops. It also gives a nice shine to mirrors and windows.
5. Fruit Fly Trap
Take a shallow pan and add 2 cups water, 2 tbsp apple cider vinegar, 2 tbsp sugar, and 2 tbsp dish liquid and then place it near where you're finding the insects. The trap will lure them in and they'll die.
Have you tried using apple cider vinegar? What other ideas do you have for using it?