When I agreed to do an HP Stream 7 review, I wasn't expecting more than just a regular tablet, but when I booted it up (and it's a fast boot), I realized it was more of a "mini-computer" with capabilities far beyond that of a tablet.
And it's priced at just $99… what?
So I decided to make a list of reasons why the HP Stream 7 tablet is such a great value. There are a few things I didn't love about it, but the pros far outweigh the few cons, especially considering the price.
HP Stream 7 Review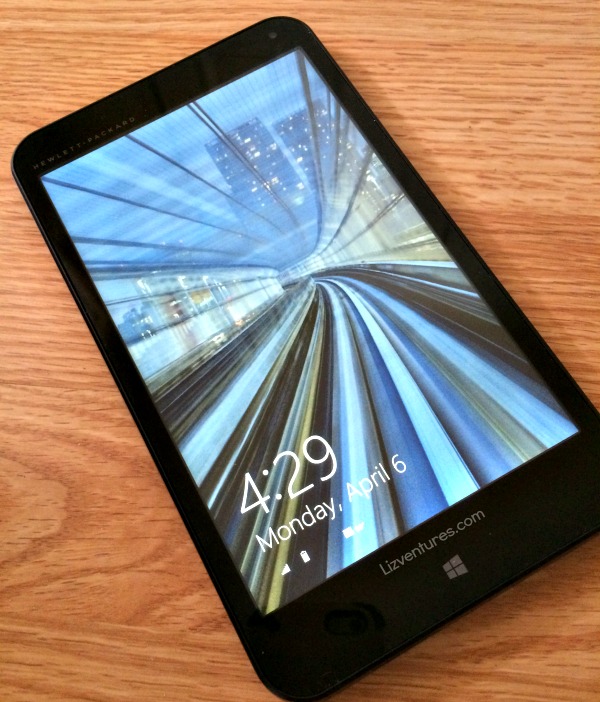 1. It comes pre-loaded with the full version of Windows 8.1, not the extremely limiting RT version. This is the whole shebang, peeps, which means it's capable of running complete programs, not just apps (which are also available in the app store.)
2. Intel quad-core processor with 32 GB of storage and a micro SD slot for expansion – The fluidity of movement and overall speed is pretty impressive, but it's limited a bit with the relatively small 1 GB of RAM, so just be aware that the more programs you have running, the more memory swapping and slow-down you'll experience. It's probably not a gamer's tablet for that reason. In terms of the web, I downloaded Chrome, which is a pretty big resource hog, so I did notice more lag when surfing the internet with Chrome vs. IE. But, I'd rather have Chrome, so that's a fair trade-off to me.
3. IPS display with 1280 x 800 resolution – The resolution isn't as great as on a high-end device, but because the surface area is only seven inches, it actually looks pretty darn good. Even better, the screen has great viewability from lots of different angles, so if you have two kids in the car watching a video on the tablet, for instance, they'll both be happy with how it appears.
4. Comes with 1 year of Office 365 Personal, 1 T of OneDrive storage and 60 Skype minutes a month. The cost of Office alone is worth half the price of the tablet, so these three perks are a huge bonus.
–The caveat to Skyping on this device is the "meh" camera. The rear camera is only 2 MP and the front camera is .3 MP, so in order to use the slightly better rear camera to Skype, you have to turn the tablet over with the back facing you, which also means you won't see whomever you're Skyping with. Of course, you can use the front camera, but the quality of the picture will be far worse. Not ideal, but also not a deal breaker.
5. Battery life – I'm getting between 7-8 hours use from each charge, and I watch a lot of Netflix, so I'm pretty impressed with this. It takes about 3 hours of charging time to go from zero to full.
6. Bluetooth – I really can't function on a tablet without a full keyboard, so this solves that problem for me. I can connect a keyboard via bluetooth (and then plug in a mouse to my keyboard), and I'm good to go.
7. Micro USB port – There's only one port, but when not charging the device, it can be connected to another device such as a mouse or keyboard if you have the right cable.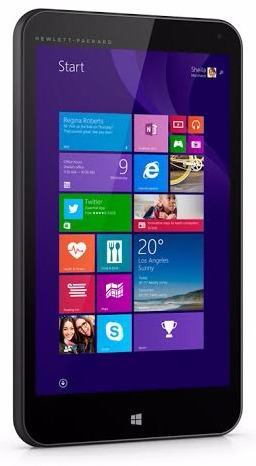 HP Stream 7
Cloud-connected, 7-inch tablet with customizable features for a personalized experience
HP Connected apps locate and bring digital content from multiple sources to one place
Thanks to a one year free subscription to Office 365 Personal with 1TB of OneDrive cloud storage and a full Windows 8.1 experience, you can stay on top of your work or be entertained from wherever you love to be
Powered by an Intel Atom Z3700 series processor
Starting at $99.99
Having the full version of Windows, Office 365 and cloud-based OneDrive storage in this tablet turns it into a portable mini-computer and versatile enough to do pretty much everything I need to do at home or on-the-go. For the low price point and the functionality, there's no denying the value of the HP Stream 7
tablet.