Did you know that in a recent national survey, 54% of people referred to themselves as  "a morning person"?
Maaaaybe post-coffee….but come on now, ya bunch of liars.  😉
But when tons of them said they'd give up their smartphone, a shower, or intimacy (mostly women on that last one, lol) for an extra hour of sleep….that I believe.
The only good thing about waking up in the morning is breakfast.
And see all those people milling about back there?
They're hungry! They want breakfast!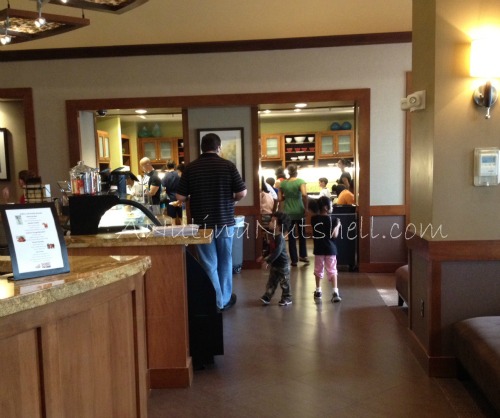 They're in the guest kitchen at Hyatt Place, where the new (and still free) a.m. Kitchen Skillet is being served.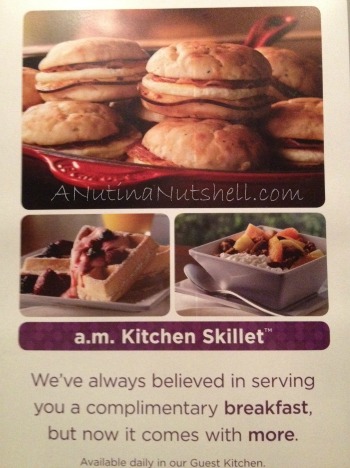 And a couple of weeks ago, I stayed at the Hyatt Place in Richmond, Virginia so I could sample that bigger and better breakfast.
And here's the gist of it:
Skillets Station
Hot breakfast sandwiches on a rotating basis (The changing variety is so nice for guests staying more than one night):
Hyatt Place Signature Sandwich: Potato Roll, Egg Patty, Round Applewood Smoked Bacon and Sliced Gouda Cheese
Classic Muffin: English Muffin, Egg Patty, Ham and Cheddar Cheese
Sante Fé Bagel: Whole Wheat Bagel Thin, Ham, Egg Patty, Spinach, Tomato, Chipotlé Mayo
Sunrise Croissant: Croissant, Egg Patty, Spinach, Mushrooms and Muenster Cheese
Southwest Biscuit: Biscuit, Egg Patty, Pepper Jack Cheese, Tomato, Turkey, Roasted Green Salsa
Hot sweet items: including waffles, pancakes and cinnamon French toast
Bread Box Station
Fresh baked pastries, donuts, bagels, and thick sourdough and multigrain breads for toasting.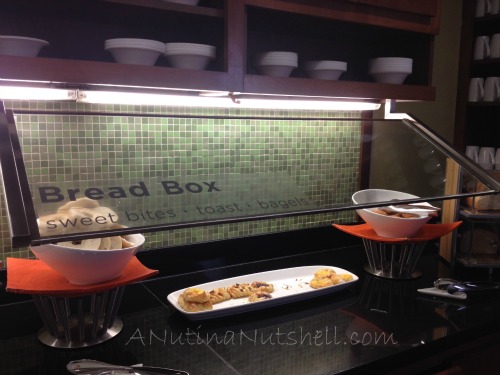 Bowls Station
Steel-cut oatmeal, yogurt, cereal, cottage cheese, assorted toppings, and fresh fruit.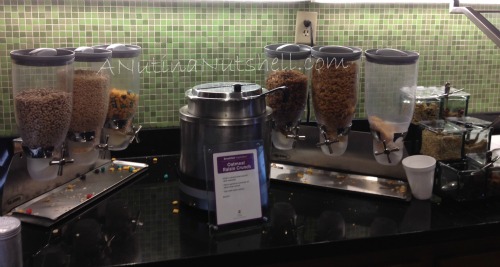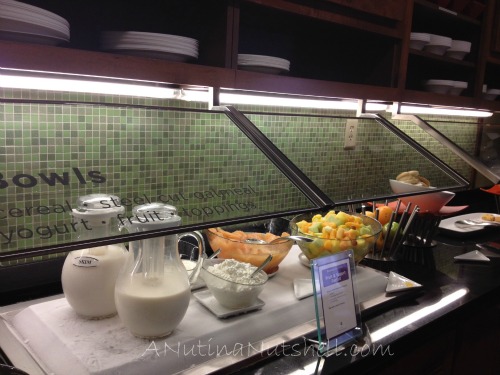 And then of course, there was juice, sweet tea, milk, and water.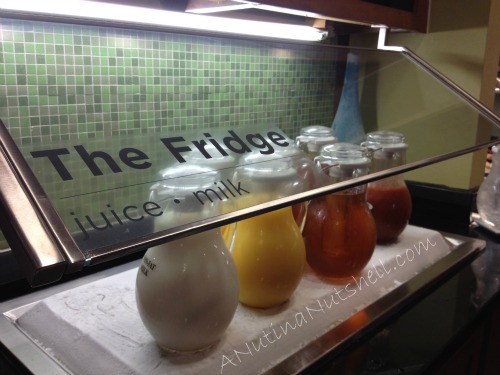 So what did I think of the a.m. Kitchen Skillet?
Well, I felt badly because it was a super busy morning, and  the person who was in charge of keeping everything stocked was also running the front desk, and she was having a hard time replenishing everything in a timely fashion.
I gotta hand it to her; she tried. (But breakfast was so popular that they really needed someone on constant duty.)
But in terms of the breakfast offerings, I was impressed.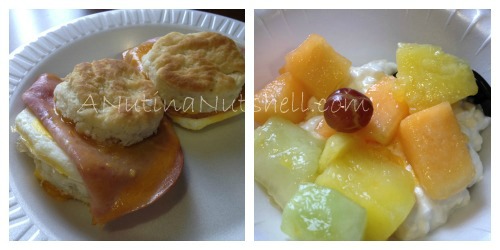 The breakfast sandwich of the day was the Classic Muffin, and it was fresh and delicious. I had expected it to be itty bitty biscuit sized, but it was big!
I also know that kids love cereal and there were soooooo many different kinds to choose from. Plus, they had all these fun and tasty toppings for oatmeal. Loved that!
And where they won me over completely was with the cottage cheese and fresh fruit – my perfect breakfast!
More than 100 Hyatt Place locations have the a. m. Kitchen Skillet now, and every location will have it by fall.
Visit HyattPlace.com to find a hotel location near you!
Are you a morning person?  
I received a free night stay at the hotel in order to try the a.m. Kitchen Skillet. All opinions in the post belong completely to me.