We are becoming such a visually oriented society, aren't we? People like to look at pretty things! It's instant gratification for the senses, and we're all just eating it up!
I think that's why I fell for IncrediMail when I tried it as an email client on my iPad. (It's FREE, by the way.) It's super visual, and each of the emails just pops and looks so attractive! It's downright interesting to look through my email now.
Here's an example of how an inbox looks. (I nabbed some of these shots from their press kit. 😉 I'm not showing you my actual inbox because I couldn't find a way to do it without displaying sender details and invading privacy.)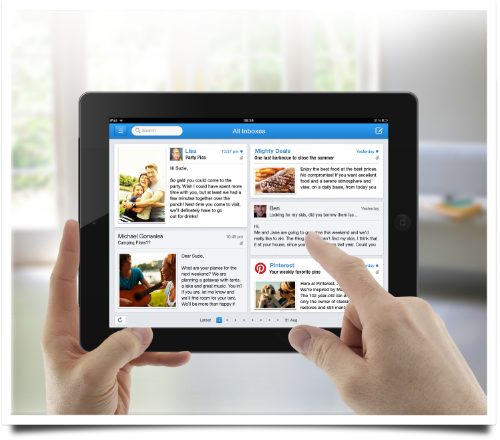 Isn't that cool? You can even connect to Facebook, and then all the profile pics of your friends will show up on those messages too!
You can see a quick preview of the email without having to open it up by scrolling with your finger.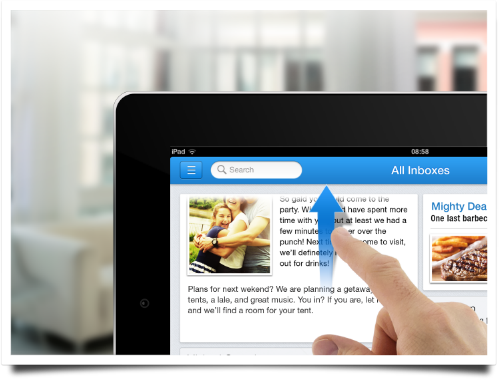 And if you open it up in full view, it's gorgeous! I don't really mind all the newsletters I get anymore because they're so pretty! (But they are making me shop….especially since there's a built-in web browser inside the inbox.)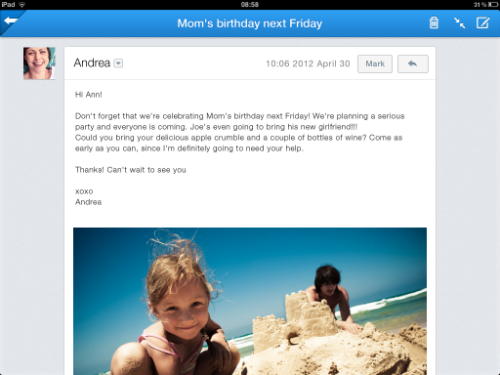 You can add as many email accounts as you'd like and you can view them separately or in a unified inbox, and it's simple to delete, mark as unread or star them as priority messages. It's also easy to view conversations in thread form. (IncrediMail currently works with Gmail, Yahoo!, AOL, and IMAP accounts.)
There's also a photo inbox which features photos from friends and family and is integrated with Facebook. (Future plans include connecting with Picasa Web, Flickr and Instagram.) So cool!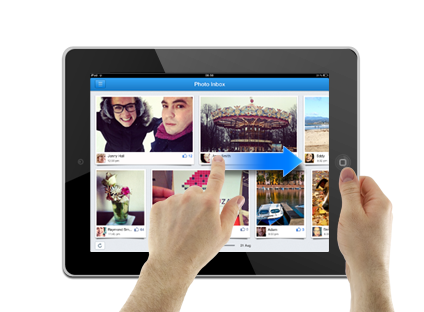 When sending mail, choose from a fun email stationery collection to add a little personality to your messages. You can also attach as many photos as you'd like to your emails, and do it all right from the inbox.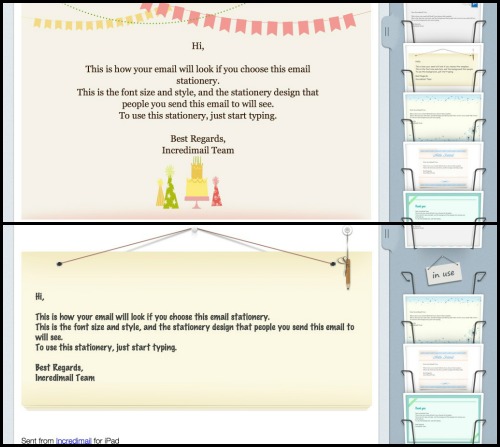 There are also the cutest little animated email notifiers. Whether you want a little barking puppy, a smiling sun, cheery emoticons or a standard "message waiting" notification, there's lots to choose from and they're all fun.
For more information, visit Incredimail or download the app for FREE through the Apple App Store here.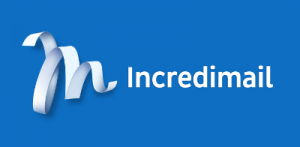 What do you think you'd like the most about IncrediMail?
I received the tools needed to test the app, but no other compensation was received. All opinions are honest and my own.