Whether you do or don't watch "Revenge," you've probably noticed that the double infinity insignia has become wildly popular. The lead character has it tattooed on her wrist in remembrance of how her father told her that he loved her "infinity times infinity".
And now the symbol has sparkled its way into the exclusive INFINITY X INFINITY jewelry collection at Helzberg Diamonds with 21 pieces ranging in price from $49.99 to $999.99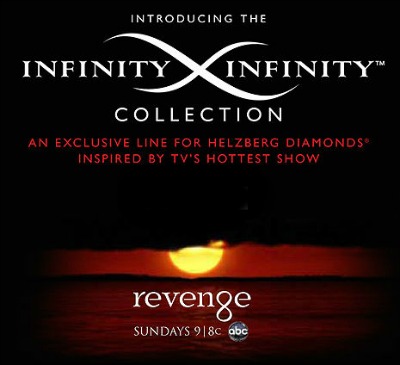 These sterling silver diamond earrings are so lovely and have just the right amount of sparkle, so I ordered a pair for myself! I think they'll be the perfect accessory for my little black dress(es).

If you prefer that the elegance float around your neckline instead of dangle at your ears, this might be your lovely.
And when I first saw this ring, I wasn't even tempted, but now that I've looked at it a million times while writing this blog post, I want it. It's just so simply sweet.
Doggone you, Helzberg Diamonds!
Or if you're drawn to very simple and clean lines, this is a beautiful and extremely affordable necklace perfect for a stocking stuffer or a gift for a teen.
And for those who love to be laced in dazzling diamonds, there are more elaborate pieces like this one.
Look for the  INFINITY X INFINITY jewelry collection at helzberg.com/infinity and in Helzberg Diamonds stores nationwide.

I received a thank you gift for posting. All thoughts are my own.