On my recent #PlayOn FAM trip to Jackson County NC, outdoor adventures played a big part in my itinerary. I'm not sure what happened to the wimp I used to be, because I'm just not afraid of stuff anymore.
Except for bugs.
And weird food.
But mostly, I ain't got time for scaredy cat biz.
So bring on the Jackson County NC outdoor adventures! We went ziplining (separate post to follow), and we participated in a couple of really neat activities arranged through Play On Adventures. They offer fun options like guided hiking, guided fly fishing trips, whitewater rafting, kayaking, mountain biking and zipline and canopy tours, so we went hiking and fly fishing!
Hiking in Western North Carolina
It's beautiful out there! Our guide took us hiking on the WCU Trails on a 3.4 mile connector loop in and out of the woods. She told us a good in-shape pace is a 20 minute mile, but she was awesome about making sure we could keep that pace and slowing down as needed.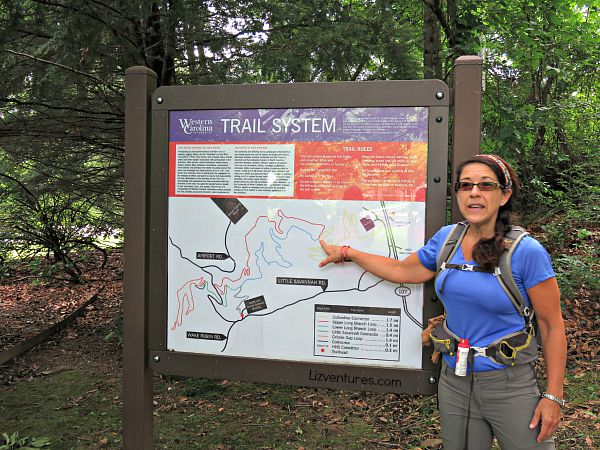 Play On Adventures customizes their hikes for each group in terms of difficulty level and desired scenery. The loop we took was largely uphill going in, and I'm not gonna lie: I saw a future hip replacement flash before my eyes, but it was exhilarating nonetheless.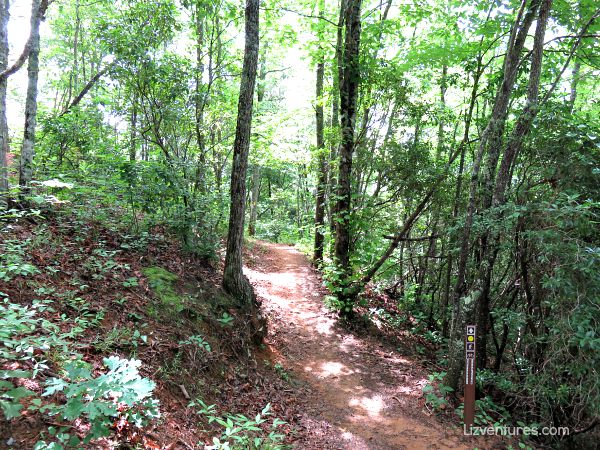 Nature is glorious!
So is going downhill.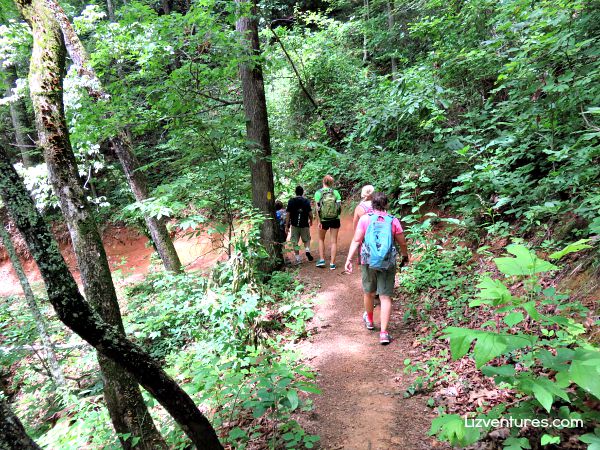 But I made it through all 3.4 miles – whew!
Fly Fishing
We also got to try fly fishing for the first time! Our guide was incredibly patient with us — it takes finesse and skill to master it, and he even admitted it can be incredibly frustrating when you're learning.
But to see it in action is a beautiful thing. The way the line sails back and forth over the rod tip and finally settles on the water in hopes of snagging a fish…it's like a finely choreographed ballet.
Simply gorgeous.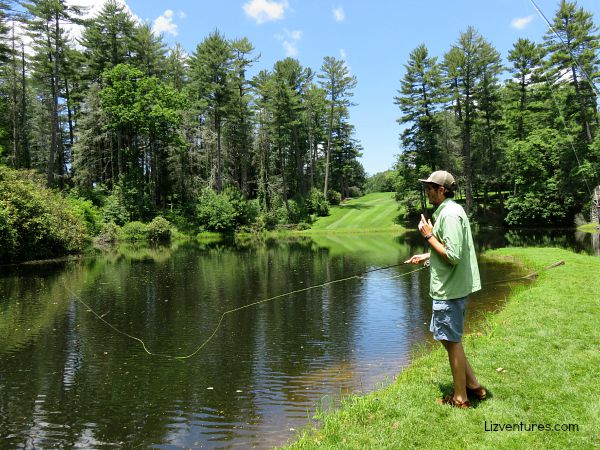 We stood on the peninsula of a beautiful lake at the High Hampton Resort as we attempted to learn the rhythm of casting.  And when I say attempted, I'm referring to the fact I stunk at it.
But the serene and peaceful setting was the ideal place for a fly fishing lesson, and I had a total blast!
I just need a lot more practice.
Lots.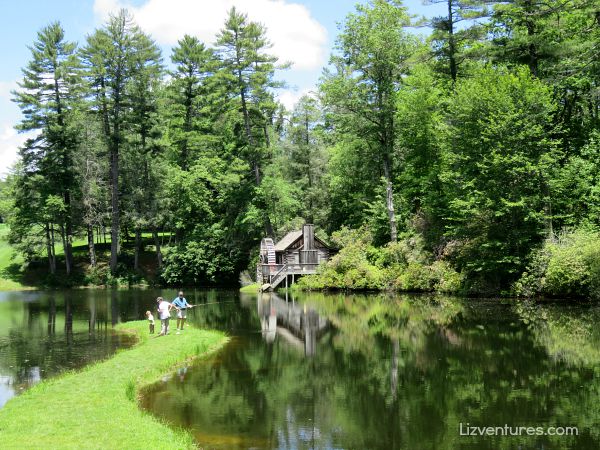 Have you ever tried fly fishing or hiking? How about any of the other Jackson County NC outdoor adventures?