Part of the fun of being a girl is wearing the shoes we get to wear. It's like we're genetically wired to love them!
I have to show you my newest review pair: the Jambu Amber fusion wedges. Aren't they adorable?! Yes.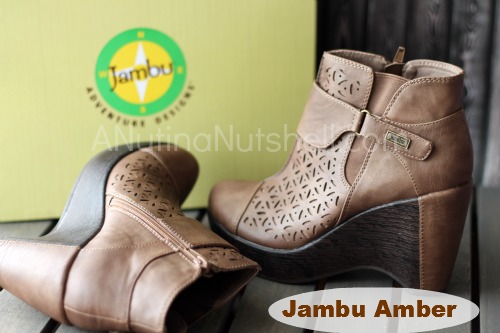 These are my second pair of shoes from Jambu Footwear. Two years ago I got the Jambu Sugar wedges, and since they were the most comfortable shoes straight from the box that I've ever owned, I raved about them. I still wear them all the time. Love.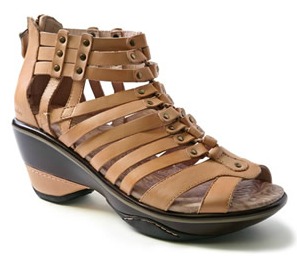 But back to my new wedge booties…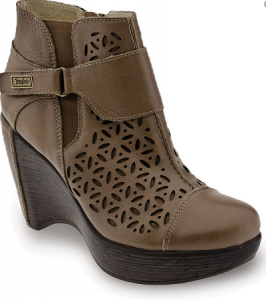 They have very pretty laser cut detailing in the synthetic leather uppers, and they sport a fusion wedge heel design which is really comfortable to walk in. I also like that they add a little height to my petite frame.
I found it really hard to capture the exact color of these in my photos, but it's a medium shade of brown pretty close to the stock photo above.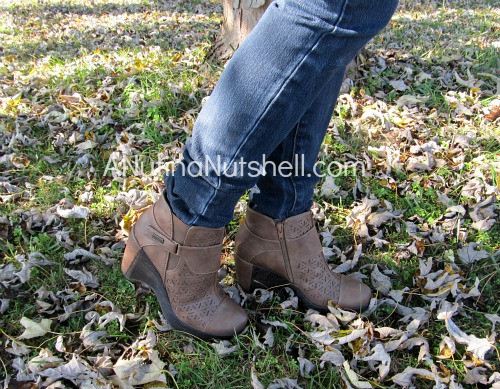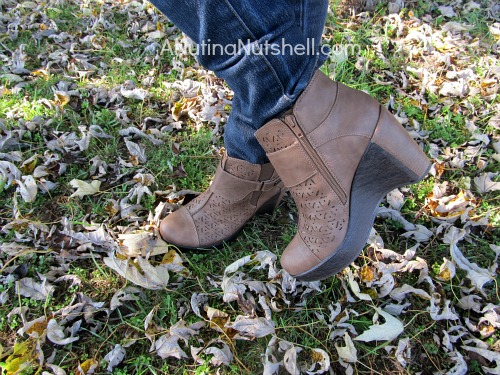 The shoe is surprisingly lightweight in spite of its' chunky look, which lends itself to being comfortable to walk in. The wedge heel is about 3.5″ high and rests on a 1″ platform with a memory foam footbed for extra comfort. The eco-friendly 'All Terra Traction' outsoles are made with partially recycled rubber and have a reassuring non-slip grip.
There's an elasticized panel of goring and a velcro overlay strap to allow for a custom fit. There's also an inner side zipper for easy on/off. (I've found the zipper a little sticky so far though.)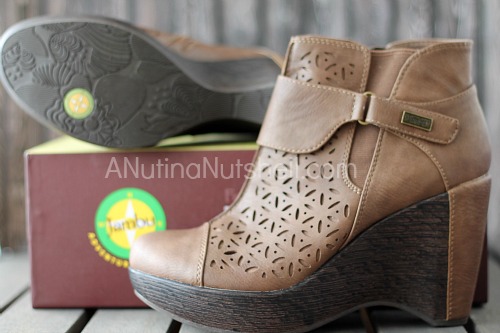 The shoes are available in Latte and Black, but I'm pretty much in love with this Latte color. They're fast becoming my go-to shoe when I go shopping or out on a weekend date.
I've never met a Jambu I didn't love, and this is no exception. It's a little pricey at $139 for faux leather, but the styling, comfort and eco-friendly qualities justify it.
(Not only are the outsoles made from partially recycled rubber, but Jambu only uses 100% recycled, recyclable and re-usable packaging.)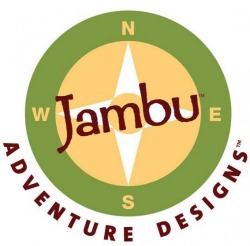 Visit Jambu.com to see the entire line of comfortable, stylish and nature-inspired shoes for women, men and kids. You can also find the Jambu Amber boots at Amazon.
Do you love wedges and booties as much as I do? What style of shoe do you find yourself wearing and/or wanting to buy most often?