She was a beauty – a dark cherry, shining bit of joy on wheels. (A 2012 Kia Sorento EX AWD .)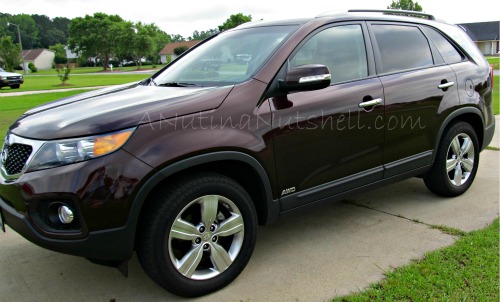 And she was here for a week-long test drive.
Mama happy-screamed a little bit.
I had never driven a crossover vehicle before!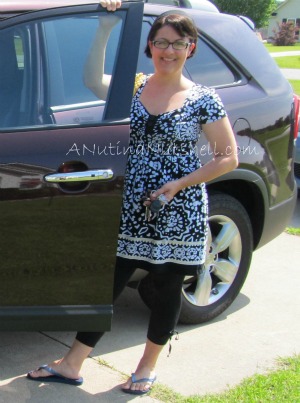 The interior was mighty purdy, and the seats were nice and comfy. The Michigan girl in me sure appreciated the heated seats too!
When I first hopped into the car, I had absolutely NO CLUE how to use the keyless ignition. A quick check of the manual told me to depress the brake fully while pushing the ignition button. Oh.
As long as the smart key is in the car with you, the push button start will activate. I just kept it in my purse.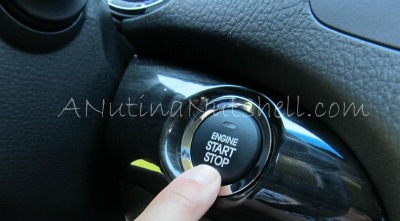 All systems go.
From that point on, everything was intuitive. The car comes with the coolest features, starting with the rear back-up warning system, which really does warn you when something is back there.
Believe me, I tried to fool it.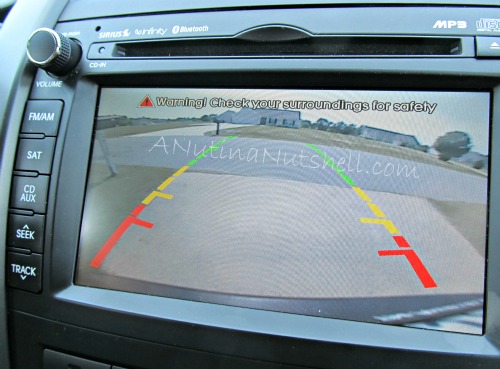 And it has a pretty awesome in-vehicle navigation system. I loooooved that even though I was listening to music, when the voice guidance piped up, it automatically lowered the volume so that I could hear the directions!
My son and I searched for a Wendy's, and we had to go off of our route a little bit to get to one, and the system navigated us back to our route without having to backtrack. Adding waypoints on the fly is awesome!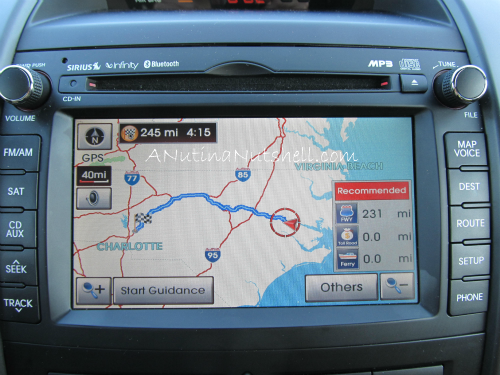 It also has satellite radio (FREE 3 month subscription), and bluetooth wireless technology, but in  the interest of safety, you can't set up your bluetooth when the vehicle is in motion. Good idea,  cuz you know people would try… (not pointing fingers at myself or anything).
I also loved having the built-in iPod adapter, and I managed my playlists right from the entertainment system screen. That was so cool!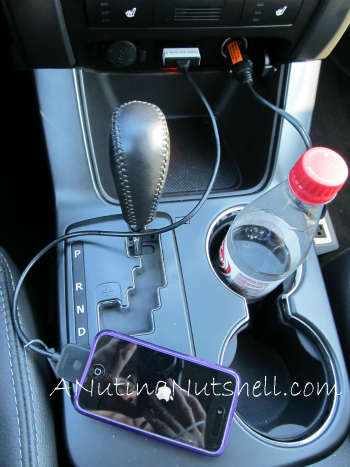 The second row of seating is quite roomy and comfortable, and my very favorite thing about it is that I can bring along my power inverter, plug it into the adapter, recruit my friend to drive for me, and I can sit in the back and get work done!
(There's an adapter in the front too, but with dual plugs, the whole family can remain plugged in on the go!)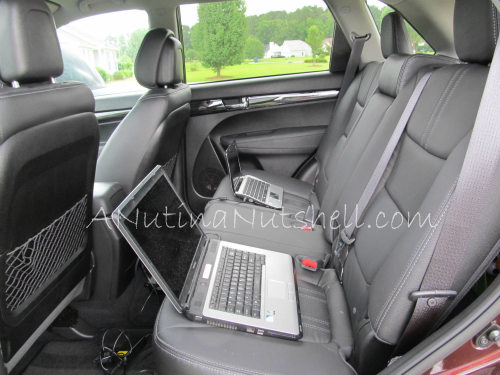 Flipping forward either of the seats in the second row allows access to the third row seating, which isn't nearly as spacious, but would be fine for little ones.
There's a netted cargo hold behind the rear seats to keep things from slipping and rolling. If you flip the third row seats forward, you can add a lot more space too.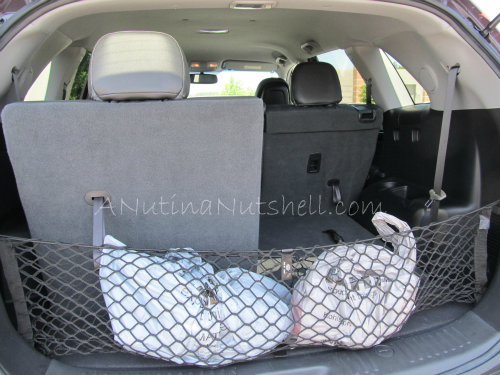 The one thing I didn't like about the extra two rows of seating is that I'm short, and the four headrests behind me obstructed my vision more than I liked. I kept the last row of seats down the whole time, partly to improve my rear vision, and partly because I loved all the cargo space it gave me.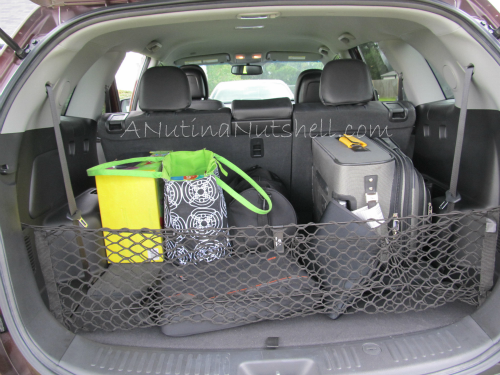 Locking and unlocking the vehicle was as easy as pushing a button! As long as I had the key on me or in my purse, all I needed to do was push this button on the door handle.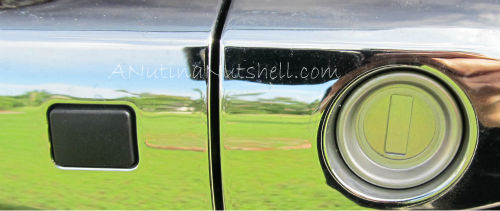 Yes, there is a keyhole there because even though you don't have to use a key, you could use a key. It's hidden inside the key fob.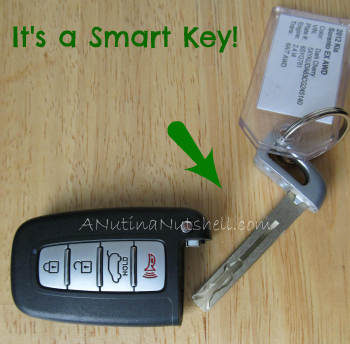 As for the ride itself,  it's super smooth and quiet, and feels like riding in a car, but with the advantage of sitting up higher like in an SUV. I had a 4-cylinder vehicle, but it felt like it had the power of a V-6.
I may have pushed the speed a titch or 20 past the speed limit accidentally (a few times), because it felt so smooth.
The Kia Sorento gets 28 mpg on the highway, and 21 mpg in town. I drove it about 750 miles while testing it, and it did every bit as well with gas consumption as my own car does, if not better. That really surprised me! (And made me mad at my own car.)
The total MSRP price for the one I drove was $31,500 including the option package.
I know that Kia has a tough reputation to get past, but they clearly have it all figured out now. The Sorento is the perfect midsize SUV for a midsize family, and I was very impressed.
For more information on the Kia Sorento, visit Kia Motors America.
This was a non-compensated review, and all opinions of the vehicle and experience are completely my own.