If you know anything about barbecue, barbeque, BBQ or however you choose to spell it, you know there are regional differences throughout these United States of ours. I suspect that if you have a favorite, you're pretty hardcore stubborn that it's the best.
Or maybe that's just me.
Well, I'm used to the deep reddish-brown smoky BBQ sauce from whatever region the good one is. 😉
But down here, these Carolina folk use this kind of clearish stuff, and I say to you…what the what?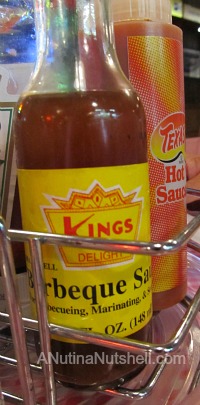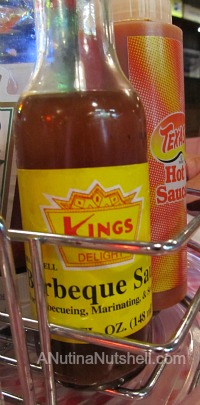 This is from a place called King's Barbeque in Kinston, North Carolina and I ain't mad at them for the sauce; it's just what they do. In fact, I decided in order to be a proper North Carolina resident, I ought to at least taste the stuff.
Plus, I was gonna save $5 on my meal since I had a restaurant.com gift certificate. My boyfriend had one too. Dutch, baby. Dutch.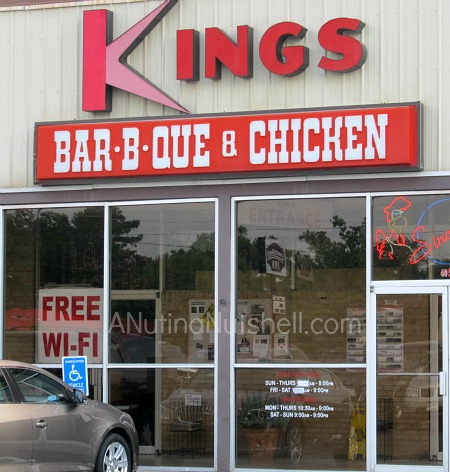 It's a cute little place, don't you think?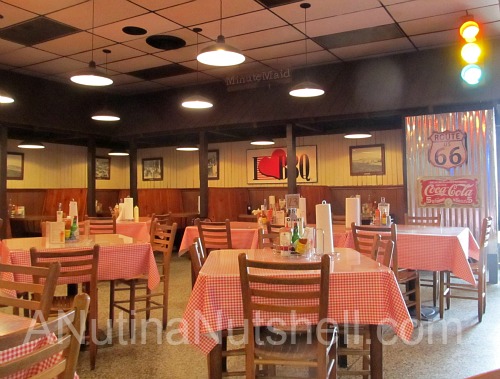 Look at the veggie side choices. They just scream Southern, don't they? I could make a  meal of these alone.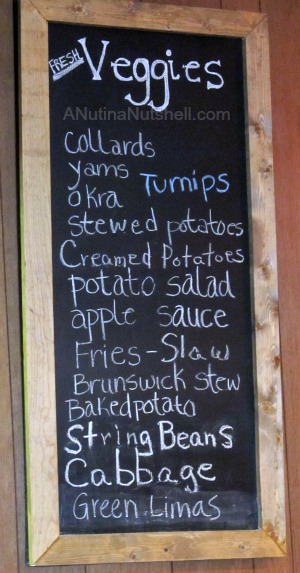 However, I'm a girl who can not resist a pulled pork sandwich. Ever. So that's what I ordered, and it looked awfully dang good when it came to me. It was tender and flavorful and positively delectable, but I just couldn't bring myself to use the Carolina barbeque sauce on top.
You can't take the red out of a red sauce girl, I guess. But you know what? It didn't matter. It was scrumptious just like that.
(Of course, if you were the prepared kind, you could bring along a bottle of your favorite sauce in your purse. But, who would do that? Ahem.)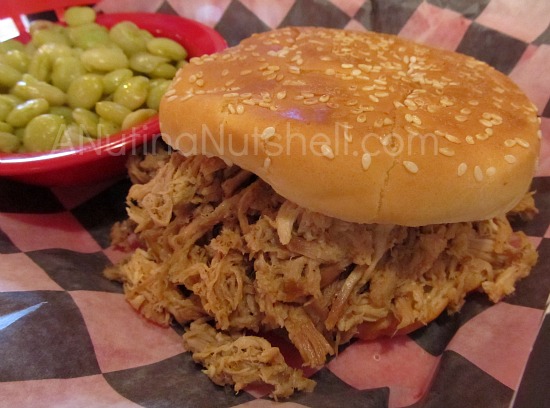 Let's look over at my boyfriend's plate, shall we? He got the BBQ and Chicken Combo Platter with white meat, tender chopped BBQ, potato salad and collard greens. I reckon I saw some hush puppies on the table too.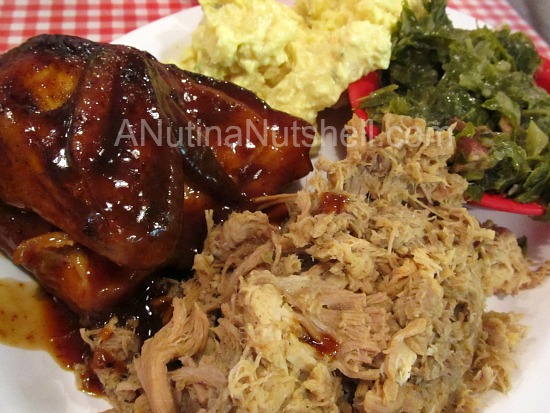 So even though I may have sauced it my way, it was definitely some of the best BBQ I've eaten since I've been a Southern belle. It was excellent, and I am absolutely, positively going back again. And again.
Purse in hand. 😉
Note: I found King's BBQ by happenstance when searching for places to use restaurant.com certificates, and since I'm a huge supporter of independent restaurants anyhow, I can't wait to see what other gems I'll find through their site. Try it yourself!
I participate in the Restaurant.com #ReviewCrew and receive perks which allow me to dine at the restaurant of my choice.