Thank you to Kingston for sponsoring this review. Please click here to learn more about Kingston. I was selected for this sponsorship by the Clever Girls Collective. All opinions are my own.
This cute little Kingston DataTraveler USB flash drive is different from the whole slew of them I have scattered around my house, partly because it's miniscule in size, and partly because it comes preloaded with urDrive software.
The software opens up an interface which reminds me a lot of an AOL portal I had in my early internet days. There are options for computer diagnostics, data back-up, web browsing, games, and kids' entertainment.
This little video gives you a good idea on what the urDrive software is.
I set up my urDrive account easily, but I just didn't have any luck with accessing the features. Most of the time I got no response when selecting a feature to explore. I repeatedly got a system error when attempting to register for a V-drive account for online data storage, and when I finally got the games category to open up, I received an "internet connection required" message telling me to "x" the box closed, and it completely locked up the software. I had to close urDrive and start over, but each time I've tried, the same thing has happened.
I don't know whether I have faulty software or there's an incompatibility with my system, but at this point, I can't recommend urDrive. I feel confident that the DataTraveler USB itself is a nice little storage device, but based on my experience, I'd opt for one of the Kingston flash drives minus the software.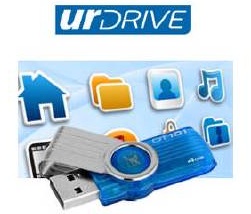 Buy It! If you'd like to try the Kingston DataTraveler 109 with urDrive software, you'll find it affordably priced at about $10.
GIVEAWAY!
One lucky winner will receive a 5-pack of the Kingston DataTraveler USB flash drives with urDrive software. (ARV $50) You can give them as stocking stuffers!
(Rafflecopter entry form below is in javascript so it may take a few seconds to load.)