We're an "I want it now" society, aren't we?
That's one of the reasons why so many of us are drowning in credit card debt.  If we re-train ourselves to save up for things, and pay only what we can afford, we'll be so much better off!
And that's why I'm telling you about the Kmart Layaway program.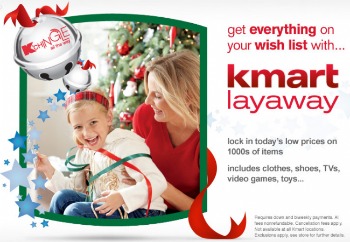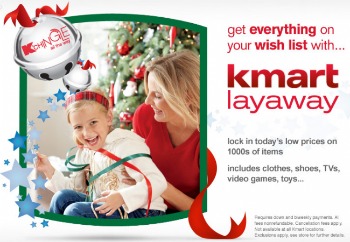 I haven't used layaway in years, but I'm going to try Kmart Layaway this year and let you know what I think.
Here's the gist of it: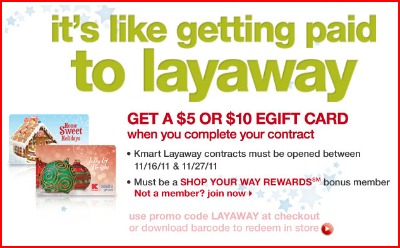 *The normal service fee to open a layaway contract is just $5, but if you open one by 11/27/2011, you'll get a gift card which totally erases the fact that you had to pay the fee! I call that a win-win! (Use promo code: LAYAWAY at checkout.)
*Layaway is available on Black Friday items, including door busters!
*Virtually everything in the store and online is eligible (marked as "Available for Layaway") – includes small kitchen appliances, sporting goods, fitness equipment, pet items, jewelry, health and beauty, clothing, toys, electronics, etc.)
*You can initiate the layaway contract online or in-store, and payments can also be made online!
*You can layaway with a minimum $15 cart total . No per-item minimum cost requirements. (For purchases of $300 or more, a 12-week layaway option is available in most stores.)
*Down payment required – $15 or 10%, whichever is greater.
*Layaway contracts can be canceled. You'll receive a full refund minus a $10 cancellation fee.
*Layaway program is available year-round, with both 8 and 12 week contract options available in most stores. Payments are made every 2 weeks.
*Full Kmart Layaway details available here.
I'll let you know how my Kmart layaway experiment goes! I'm going to try it online, and see how that works out. 🙂
*comments off – we'll talk about it later*
As a Kmart Holiday ambassador, I'll be receiving compensation for my time investment in trying out the Kmart Layaway program and for creating the surrounding blog content, but all opinions expressed during this campaign will be completely my own honest experiences, and will not be influenced by compensation.