When I was at the Kraft Kitchens last month (which I want to talk about in a separate post), I was able to taste and try quite a few of Kraft's new and upcoming food products.
Some of my very favorites were:
The two new flavors of Wheat Thins: Smoky BBQ and Sweet Cinnamon. They're outstanding!
The Sizzling Salads (I tried the Southwest Chicken flavor)

and the Velveeta Cheesy Skillets  (I tried the Ultimate Cheeseburger Mac recipe).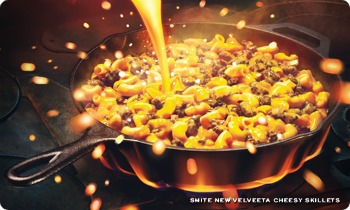 And in celebration of all things yummy, I'd love to give one of you a big box of Kraft's yummy foods, including my favorites, so you can try them too!
GIVEAWAY!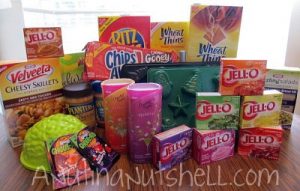 One lucky reader will win a gift box full of the following Kraft Food products: Kraft Foods Food & Family Holiday 2011 Magazine, Chips Ahoy! Chewy Gooey fudge-filled cookies, Ritz Bits Kickin' Cheddar sandwich crackers, Snackwell's Fudge-drizzled Caramel Popcorn, Wheat Thins Smoky BBQ snacks, Wheat Thins Sweet Cinnamon snacks, VELVEETA Cheesy Skillets Dinner Kit, Kraft Sizzling Salads Chicken Caesar Dinner Kit, Planter's Peanut Butter creamy and crunchy flavors, JELL-O Halloween Brain Mold, JELL-O Jigglers Halloween Mold, JELL-O Jigglers Holiday Mold, Assorted flavors of JELL-O gelatin dessert and JELL-O instant pudding including NEW Candy Cane and Gingerbread pudding flavors, JELL-O Halloween Recipe Booklet, JELL-O Holiday "Treat Explosion" Recipe Booklet, Holiday JELL-O Jigglers recipe, JELL-O Jiggle-It app download, Crystal Light mocktail drink mixes, Kool-Aid Scary Blackberry Ghoul-Aid drink mixes, Coupon for one (1) package of any OSCAR MAYER Selects Hot Dogs, Coupon for one (1) package of any OSCAR MAYER Carving Board Meats.
(Rafflecopter entry form below is in javascript so it may take a few seconds to load.)