What do you get when you combine Kraft Fresh Take Southwest Three Cheese, a challenge and me? Well, first you get a smile, because that's my favorite Fresh Take flavor, and then you get something yummy!
Because I've been challenged to create some meal ideas and recipes with Kraft Fresh Take, but, it's not quite that straightforward…they've thrown a few twists at me!
Look at my first challenge card: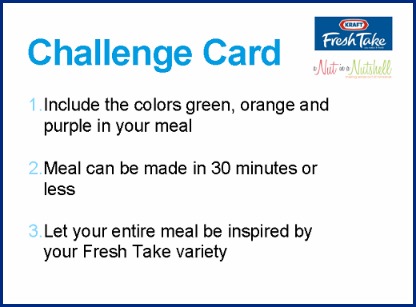 Green, orange and purple? Oy vey.
But then I started thinking and decided to try using the Fresh Take as a taco seasoning for ground beef! I had no idea if it would work, but I was willing to try, so I picked out these three colorful ingredients to go with my assigned Kraft Fresh Take Southwest Three Cheese flavor and gave it a whirl and was very happy with the results!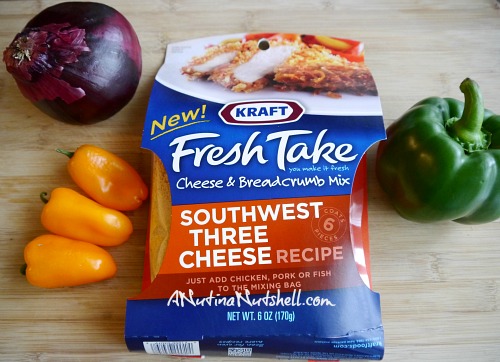 Southwest Three Cheese Fiesta Tacos
Ingredients
1-1 1/2 lbs lean ground beef
Kraft Fresh Take Southwest Three Cheese flavor (seasoning and cheese pouches divided)
1 can chili beans (I used spicy)
1/2 green pepper, diced
1/4 cup red onion, diced
1/4 cup orange sweet peppers, diced
*Optional for those who like heat – 1/4 tsp ground red pepper or crushed red pepper flakes. For even more heat, substitute jalapenos for the green peppers and/or substitute habanero peppers for the sweet peppers.
 Directions
1. Brown ground beef; drain off excess fat. Add diced vegetables and cook until tender.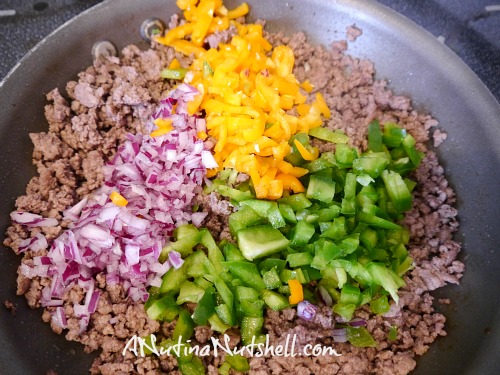 2. Stir in chili beans and Kraft Fresh Take seasoning mix (not cheese).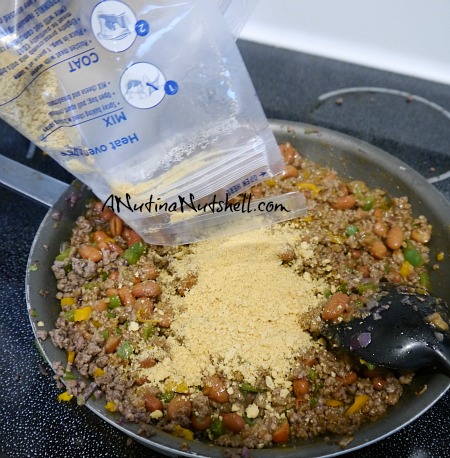 3. Stir until ingredients are combined well and heated through.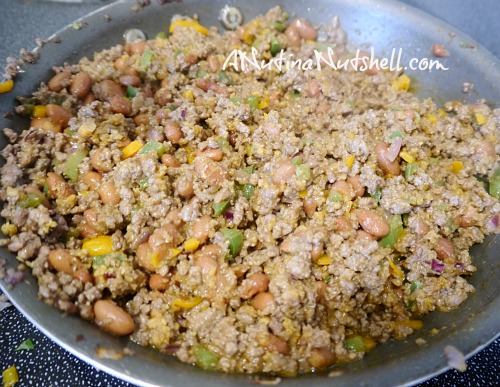 Serve inside crispy or soft taco shells, sprinkle on the Fresh Take cheese, and top as desired. Enjoy!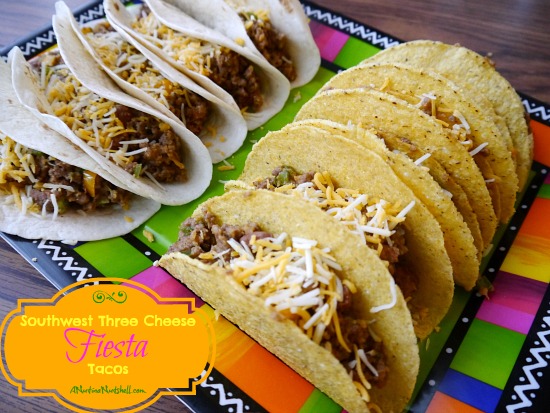 Note: The leftovers will make delicious taco salads.
Stay tuned for more Kraft Fresh Take Challenge fun as well as a fabulous giveaway, and be sure to follow the hashtag #KraftFreshTake on Twitter and Pinterest to see what other bloggers have done with some of the other flavor varieties.
(For even more recipe ideas, visit Kraft Fresh Take and the Kraft Recipes websites.)
KRAFT Foods is providing the prizes for this program at no cost to me and has provided me with a gift of equal value for review.  This program is not administered or sponsored by Kraft Foods or its affiliates, but solely by A Nut in a Nutshell.