I wasn't expecting to like the Legend of Tarzan movie that much. See, I was never a Tarzan fan, because I hadn't seen anything in previous films that made me want to be one.
But wow. When I saw the film last weekend in a screening hosted by Warner Brothers, it blew me away.
The Legend of Tarzan was amazing, and I loved it.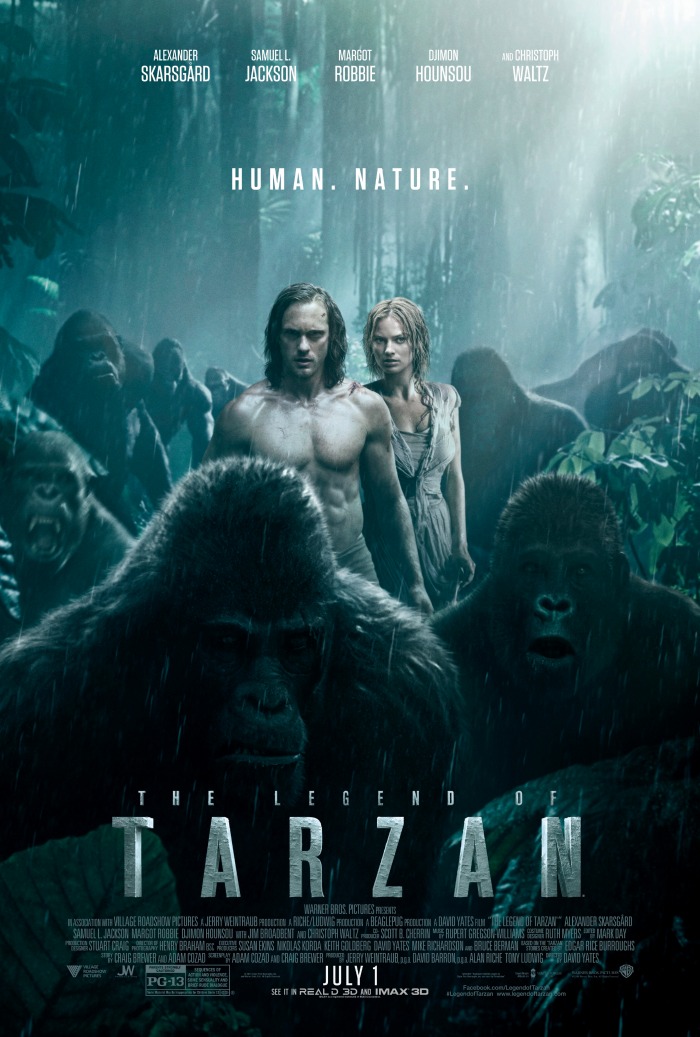 It made me care. About Tarzan. About Jane. About the Congo. About humanity.
The Legend of Tarzan has heart. "A big beating heart," according to director David Yates, and it was a large part of why he was drawn to take on the project initially. The movie is classified as an action adventure, and it is, but at the core of the movie is a great romance with a fierceness and depth that's palpable to moviegoers.
Yates says,  "The thing that really pulled me in was the fact that it was about two human beings that ultimately save each other. And I felt that was a very moving thing to have at the heart of it."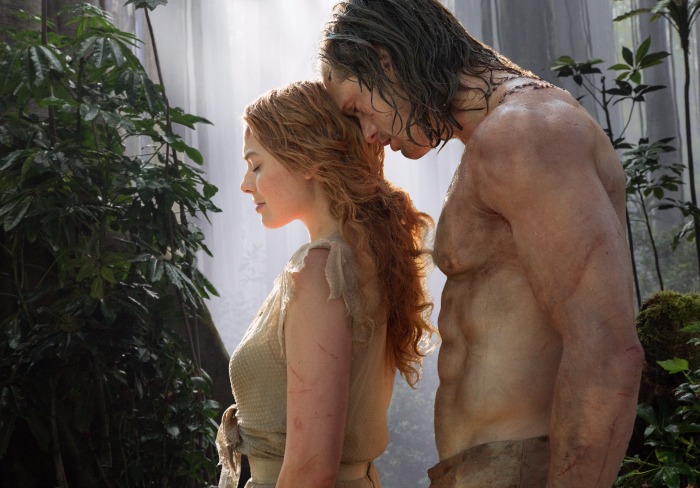 Psst, I gathered all this intel last weekend when Warner Brothers sent me for an interview with David Yates and the two lead actors,Alexander Skarsgård, who played Tarzan and Margot Robbie, who played Jane.
Both David and Alexander were quick to point out that it's not a "Me Tarzan, you Jane movie." In fact, it's a brand new story which begins in London in the late 1800's where a now civilized and dignified John Clayton (don't call him Tarzan) lives with wife Jane in his manor estate. Without spoiling the story, they're tricked into returning to their former home in Africa, and once there all hell breaks loose, to put it bluntly.
Take a look:
Alexander said, "It's not, you know, the wild man, like, finding his way into civilization. It's someone who's already acclimated to that and then is forced to go back and kind of reconnect with his roots and with his inner animal in a way, which I thought was quite interesting to play."
Skarsgard talked about the rigorous conditioning he had to go through in order to have the animal-like movements that would come with having been born and raised in the jungle. "Animals don't have muscles that don't serve a purpose… it's all about efficiency in Mother Nature. Everything has to be there for a reason."  In order to do that, it wasn't about bulking up. It was about increasing flexibility, nimbleness and agility.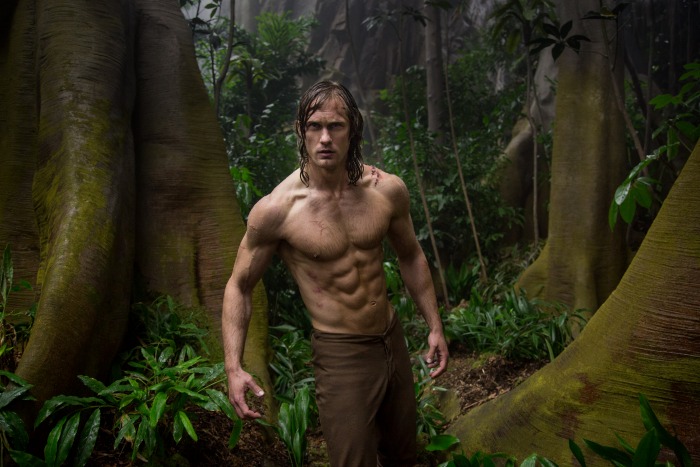 Although Legend of Tarzan is set in the late 180o's, it has a modern edge with the use of contemporary expressions and mannerisms. And Margot Robbie shared how important it was to make sure Jane was feisty and spunky, not a damsel in distress.
"She's just always actively trying to get out of the situation as opposed to waiting for someone to come save her… So, I didn't want to downplay the love aspect, but also did want to make sure that she was very capable and defiant and intelligent."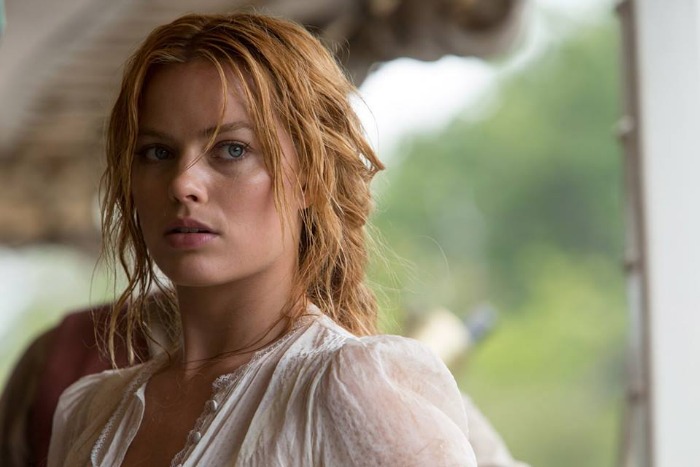 On the African location, Yates let us in some film making secrets. "We filmed a lot in England and Gabon, which is where we shot all the wonderful landscapes. And Gabon's the most beautiful, amazing place in the world." But he also said, "Shooting in jungles is a nightmare basically. We went to Gabon. I went with my crew to Gabon. And what you do is you go into the jungle for half an hour. And  lovely crew who are all these delicate Brits, we go in. And when we come out the other side, we're covered with all sorts of stuff, and things have dropped on us, and we're all exhausted after half an hour. 
So, you realize that, to sort of bring this story to the screen requires a different approach. And so, it involved recreating some of this world in the way we created Potter. You know, we build some of it. And that was the biggest challenge, how you realize it and make it feel real. Romantic but real is the key I think, yes."
When you see the movie, you'll be amazed at how beautifully it was shot. The cinematography was utterly fantastic.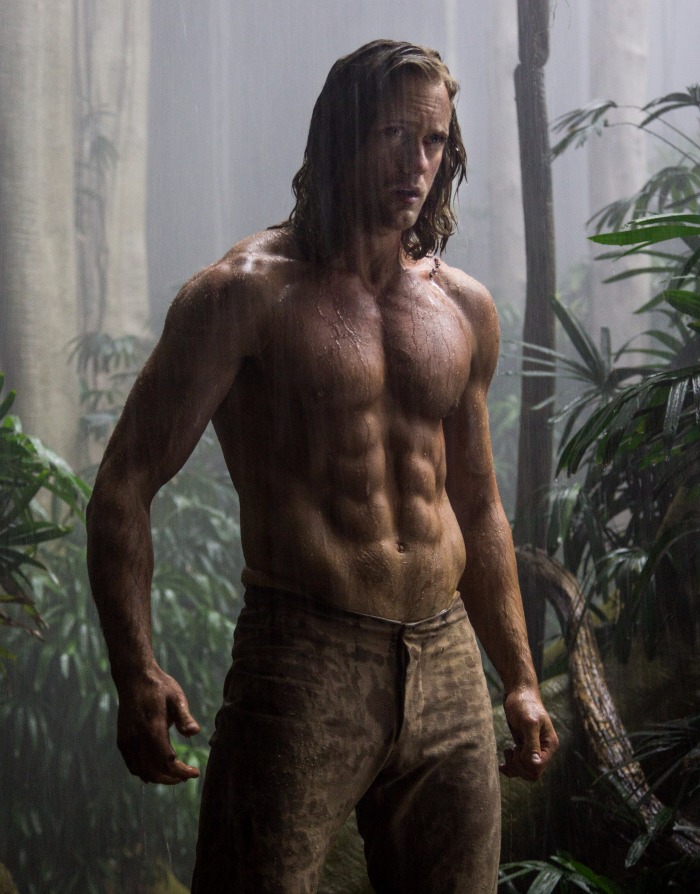 The funniest part of the interview was when Margot poked fun at Alexander about filming the CGI lion scene. "Alex had to interact more with invisible animals than I did. And I got to kind of like stand back and giggle to myself as he nuzzled with a stunt guy pretending to be a lion. This is like the most ridiculous thing I've ever seen."
Alex added, "So, that was a very interesting day, the lion scene… His name's Ace…  like a 25-year-old gangster from South London, super cool guy, shows up in gray pajamas on set. And we shake hands. I'm like, "Oh, nice to meet you." He's like, "What's up, mate? How you doing?" And then they'd call action. We'd go down on all fours, and we'd just start rubbing with Sam [Samuel L. Jackson] and Margot in the background like, "He's known her since she was a cub."
(Look for it in the film and then remember this story.)
THE LEGEND OF TARZAN – IN THEATERS FRIDAY July 1st
From Warner Bros. Pictures and Village Roadshow Pictures comes the action adventure "The Legend of Tarzan," starring Alexander Skarsgård (HBO's "True Blood") as the legendary character created by Edgar Rice Burroughs.

The film also stars Oscar nominee Samuel L. Jackson ("Pulp Fiction," the "Captain America" films), Margot Robbie ("The Wolf of Wall Street"), Oscar nominee Djimon Hounsou ("Blood Diamond," "Gladiator"), Oscar nominee John Hurt ("The Elephant Man," the "Harry Potter" films), with Oscar winner Jim Broadbent ("Iris"), and two-time Academy Award winner Christoph Waltz ("Inglourious Basterds," "Django Unchained").

It has been years since the man once known as Tarzan (Skarsgård) left the jungles of Africa behind for a gentrified life as John Clayton III, Lord Greystoke, with his beloved wife, Jane (Robbie) at his side. Now, he has been invited back to the Congo to serve as a trade emissary of Parliament, unaware that he is a pawn in a deadly convergence of greed and revenge, masterminded by the Belgian, Captain Leon Rom (Waltz). But those behind the murderous plot have no idea what they are about to unleash.

Directed By: David Yates
Rated PG-13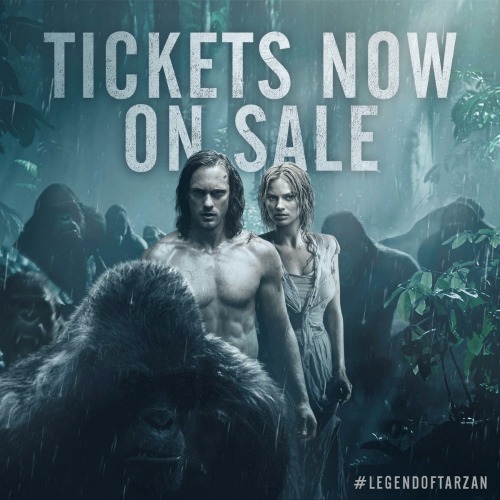 See LEGEND OF TARZAN in theaters beginning Friday, July 1.
Get your tickets at Fandango now! 
Visit the Official Site
Like 'The Legend of Tarzan' on Facebook
Follow on Twitter and Instagram