Look in my fridge today, tomorrow, or any day and you'll see yogurt.
It's the only food that's in there all the ding dong time.
Those of ya who know me are wondering why I didn't say diet soda.
Well, because I drink my diet soda at room temp.
Oh yes, I do.
So anyways, about that yogurt….
I'm constantly grabbing one out of the fridge, but I'm not entirely happy with where I gotta keep it. The drawer.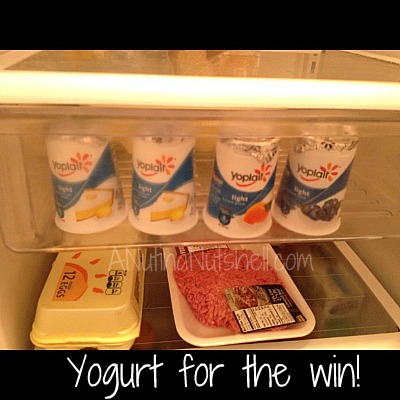 I had it on the shelf, but the little containers kept getting knocked off and exploding on impact.
Mama didn't like that.
So I started using the drawer, and they're safely imprisoned there, but there's something annoying about having to pull open that crotchety, rough riding drawer every single time I want a snack.
So that's why I jumped into the "Food Fight"!
It's a tongue-in-cheek, hilarious fight between diet soda, mustard, juice boxes, and yogurt to see which one will get a special section devoted to it in the new door-in-door section of LG's refrigerator!
And I'm pulling for yogurt!
You can join the Food Fight too! Which one would you pick? 

Vote here or on the LG Facebook page for the winner!
For those quick trips to the fridge, the Door-in-Door is a magnetically sealed section of the refrigerator that allows you to access the door bin without opening the entire refrigerator. Due to the Door-In-Door feature, less cool air escapes when the easy access compartment is opened, keeping cold air in the rest of the fridge, where it matters most. Whether it's a refreshing drink, condiments or a healthy snack, the Door-in-Door is the ideal space for quick access to your family's go-to foods such as canned or bottled drinks, salad dressings and condiments. Learn More Here.
Compensation was provided by LG via Glam Media. The opinions expressed herein are those of the author and are not indicative of the opinions or positions of LG.