A few days ago I told you that I was challenged to create a recipe using a pork sirloin tip roast that I had picked up (on sale this week for $2 off at Costco).
I slow cooked the pork all day long, and it was so worth the wait.
Tender, flavorful, absolutely delicious slow cooked pork roast!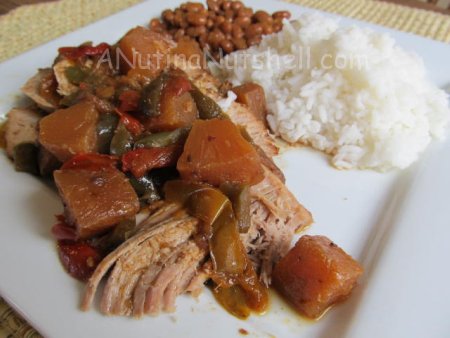 Ingredients
3-4 lbs boneless pork sirloin tip roast
1 can chicken broth
1 7-oz jar black bean sauce
1 15oz-can pineapple, crushed or chunks
1 T fresh ginger
2 cloves minced garlic
1 T adobo seasoning
1 16-oz bag frozen stir fry peppers and onions (use fresh, if desired)
Directions
Combine chicken broth, black bean sauce, ginger, garlic, and adobo sauce. Add this to the crock pot, and then add the pork roast. Add the pineapple and vegetables. Cook on low heat for 8-10 hours.
Pork roast will be very tender when ready. Carefully slice it,or you could pull it apart into chunks, if desired.
Serve over rice, and spoon some of the remaining sauce over the top.
Enjoy!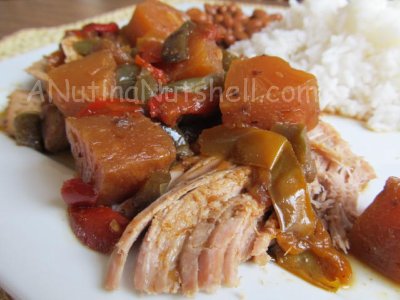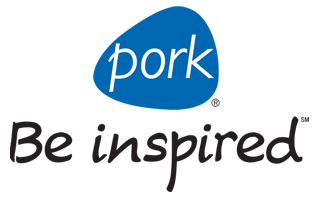 GIVEAWAY!
One (1) lucky winner will receive a $25 Costco Cash card, a digital instant-read thermometer, and a USB flash drive with info and tips on cooking with pork.
(Rafflecopter entry form below is in javascript so it may take a few seconds to load.)
I'm working with Costco, the National Pork Board and The Motherhood on this fun campaign, and I am receiving a stipend for my participation.