I don't really care about the NFL, but I love me some college ball! It has heart and it still has purity. It's football for the love of the game.
Go Big Ten!
So when football season rolls around, I can't help but get fired up again. I root for my daughter's alma mater and I root for my son's university. And when they play each other…well, I just root for a good game!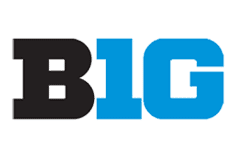 Being down here in North Carolina, I can't attend any Big 10 games. But since we do have a university here in town, I can't resist tailgating with friends for at least a couple of those.
Plus, it gives me an excuse to serve my favorite tailgate food.
Glazed Ham Sandwiches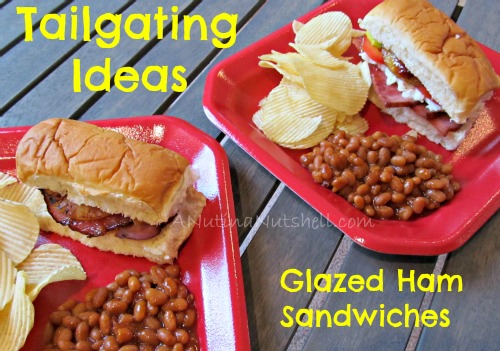 Ingredients for Ham with Glaze
1 ham of your choice (I used a 2 lb spiral sliced ham)
1 cup mango pepper jelly
1/4 cup pinot grigio (white wine)
1/2 cup pineapple juice
1/4 cup ketchup
1/4 tsp ground cloves
1/4 tsp cinnamon
1 T lime juice
Directions
1. Sprinkle ham with light dusting of cinnamon and ground cloves. Lay a few pineapple rings over the top, fastening with toothpicks, and then bake ham according to package directions.
2. Mix mango pepper jelly, wine, pineapple juice, ketchup, cloves, cinnamon, and lime juice in a saucepan. Cook on stove until heated through.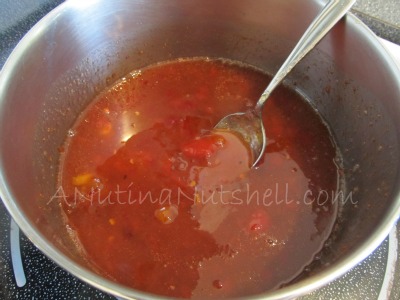 3. When there is about 30 minutes of cooking time left for the ham, baste with the glaze and let it bake that last half hour.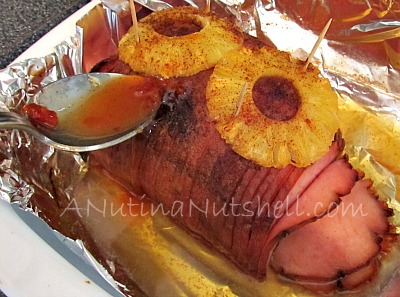 4. Pan grill some extra pineapple rings for sandwiches.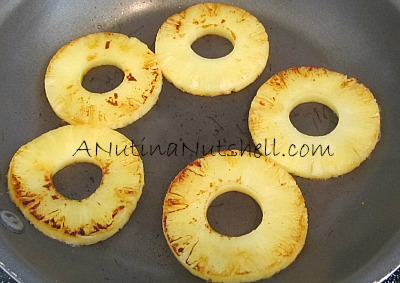 And the results will be the most deliciously irresistible baked ham, pre-sliced and ready for sandwich making.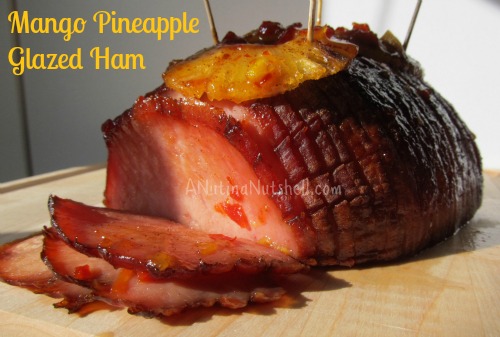 It pairs beautifully with King's Hawaiian mini sub rolls; they're the perfect flavor and size.
I like my sandwiches with just the pineapple and ham, but I always bring along pickles, tomatoes, mayo and coleslaw too.
And for tailgating, I just pack the warm goodies in foil pans and the cold goodies in plastic containers.
Mmmmmm, I can't wait!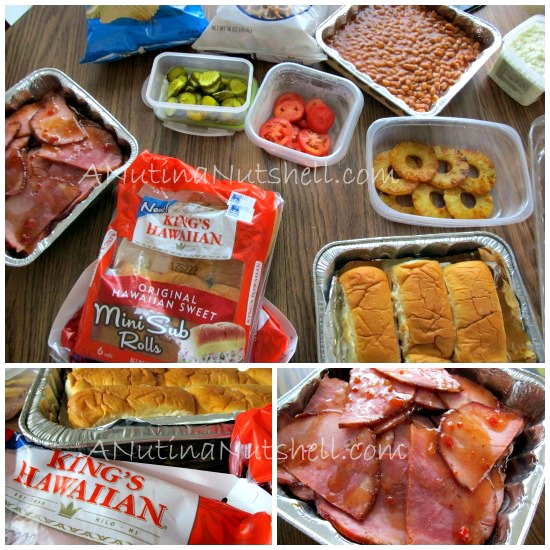 Hurry and get it into the car and I'm off!