I participated in an Ambassador Program on behalf of Mom Central Consulting for Marriott Rewards. I received Marriott Points to facilitate my review as well as a promotional item to thank me for my participation.
Have you ever thrown a surprise party or had someone throw one for you?
My siblings and I threw a surprise 50th anniversary party for our parents several years ago. It took a whole lot of planning, coordinating and sneaking to pull it off, but it was totally worth it!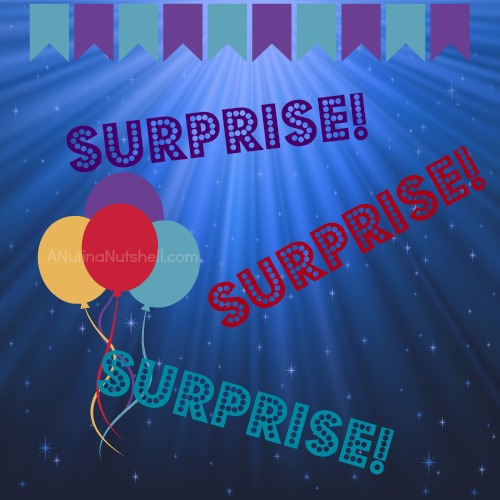 This year Marriott Rewards® is celebrating a whole Year of Surprises in honor of their 30th birthday, and eleven lucky winners will each receive the surprise party of a lifetime!
Nominate someone you think deserves a surprise party, and share your memorable idea of what the party should be like. There are three nomination periods throughout the year:
February 1 – 28, 2014
May 1 – 31, 2014
August 1 – 31, 2014
Make your entry a good one and maybe Marriott Rewards will surprise someone you love!
Visit yearofsurprises.com/rules for details.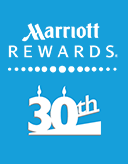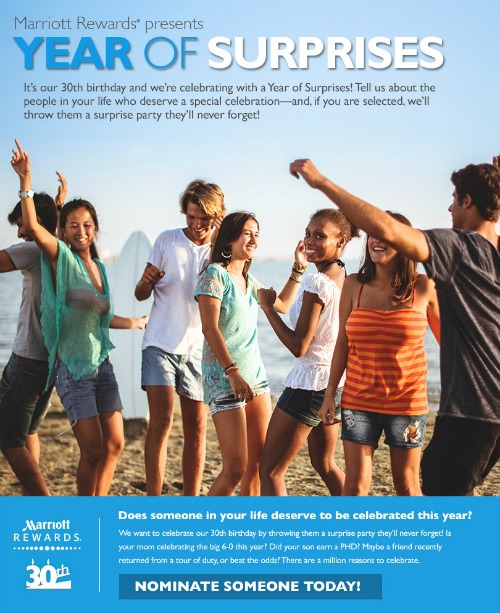 As part of my new Marriott Rewards ambassadorship (yay!) I'm so excited to be able to share this fun event and all the ways Marriott is making memorable experiences for its members.
You are a Marriott's Rewards member, right? It's FREE and you can earn points when you stay in any of the 3,700 worldwide properties, plus redeem the points for hotel stays, frequent flyer miles, cruises, car rentals, merchandise and more.
Sign up at Marriott.com/rewards
Have you ever thrown a surprise party or had one thrown for you?