It's not too late to earn your free $20 MasterCard gift card in the MasterCard "Here's To Mom" promotion!
Whether you're buying last minute holiday gifts (like me) or whether you're going to shop the amazing After Christmas sales (also like me), you have until December 31st to earn a free $20 gift card.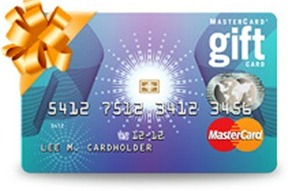 Here's what you do:
Enroll your MasterCard credit card or debit card and email address at MasterCardHolidayRewards, then just shop online  from now through December 31, 2011. After spending just $200, you'll receive a $20 MasterCard gift card!
It was so simple to sign up that I nearly didn't believe it. You don't submit anything other than the card number you're registering and your email address. Crazy, huh?
I have about $30 to go until I reach payout! Woohoo!
*Comments off. I'd rather you go register and earn yourself a gift card!*
I received a promotional item to thank me for my time in writing this post. All opinions expressed in the post belong completely to me.