Mangos are delicious! Since they're available year-round and so versatile, I use them quite often in my recipes, but I also enjoy slicing them for a snack. A one-cup serving of mango is just 100 calories and provides 100% of your daily vitamin C, 35% of your daily vitamin A and 12% of your daily fiber.
If you love the taste of mangos and want to learn how to prepare and serve them in delicious new ways, join us for the #MasterTheMango Twitter Party October 8 at 1pm ET/ 12 pm CT.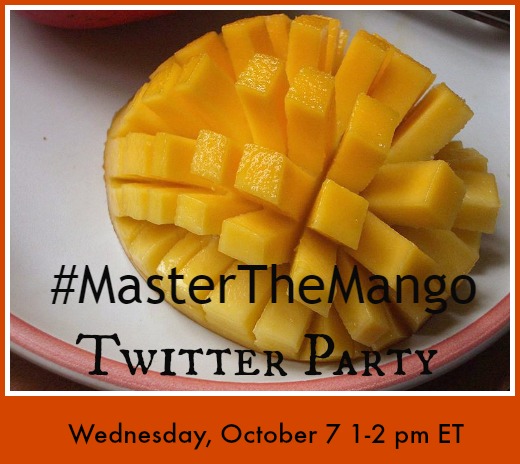 Photo Credit: Zantastik
Join the #MasterTheMango Twitter Party!
DATE: Wednesday, October 8
TIME:  1:00 – 2:00 PM ET
PRIZES: 10 sets that include a Kuhn Paring Knife, Fruit Scoop, Mangos & Le Creuset Utensil Holder ($50 value)
HOSTS: @mango_board and @TheMotherhood
RSVP/RULES: #MasterTheMango Twitter Party
These Mango Turkey Sliders are fantastic, and we'll be sharing all kinds of recipe ideas like this at the party.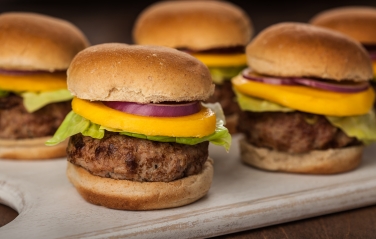 Do you know how to choose and ripen a mango?
Don't judge a mango by its color – red does not mean ripe.
Squeeze gently to judge ripeness.
A ripe mango will "give" slightly and a firm mango will ripen at room temperature over a few days.
To speed up ripening, place mangos in a paper bag at room temperature.
Once ripe, mangos can be moved to the refrigerator to slow down ripening for several days.
If you don't know how to cut and slice a mango yet, take a look at this video. It makes it so easy!
I hope to see you at the #MasterTheMango Twitter Party October 8 at 1 pm ET.