Kids will get a huge kick out of Chameleon Crunch because the chameleon is wackadoo! Get ready for zany, silly fun with this new Mattel game for preschoolers where players race to feed him bugs.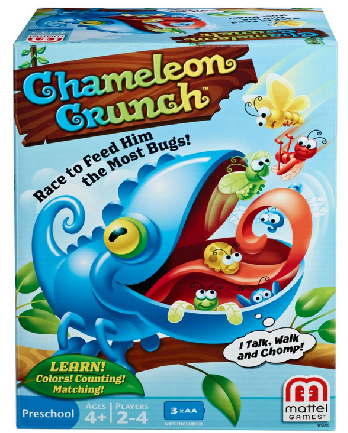 Two Ways to Play:
Bug Crunch – players select an insect type (grasshoppers, ladybugs, dragonflies, or butterflies)
Color Crunch – players select a certain color (blue, green, red, or yellow)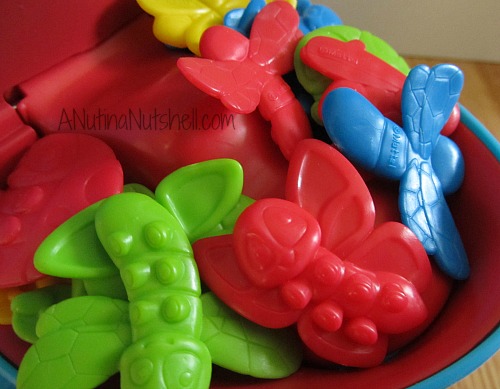 Just spread the insects out on the floor, turn Chameleon on and watch him scurry, talk and make goofy sounds as everyone tries  to feed him all their bugs.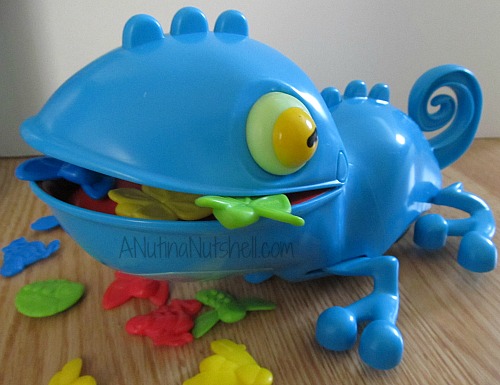 His mouth opens and shuts so you have to be quick, and sometimes he'll spit the insects back out as a surprise! When he stops moving, whoever has the most bugs in his mouth wins.
I tried the game on both hardwood floors and on carpet, and I was surprised how well it still moved on carpet. I think I may have even liked playing it there more! It's a really active, frenzied game and super fun!
Buy It! Chameleon Crunch can be played with 2-4 players, ages 4 and older. 3 AA batteries required. Available at nationwide toy retailers and Amazon
. (Current price $10.99)
Stocking Stuffer Games
Apples to Apples Dice Game – Players rotate as the judge by rolling a letter on the green die making up an adjective starting with that letter. Then the judge rolls the red dice, and players race to choose one of them and say a noun that starts with the letter on the die they chose. The judge awards a green chip to the noun that makes the best comparison.
The first one to get 5 chips wins the game. (3 players)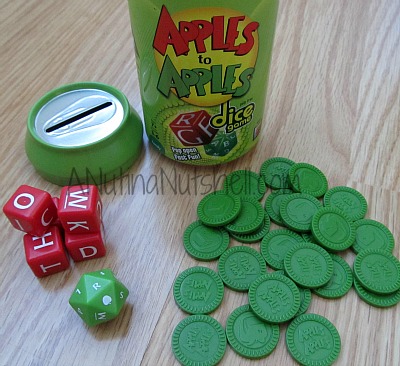 UNO Dice Game – On this two-player twist of the popular game, dice take the place of cards. Each player starts with five dice, and the one remaining die is placed in the center of the play area to act like a discard pile.
The first player rolls their dice and tries to match either the number or color of the UNO starting die. If they have a match, they add it to the line and the next person rolls and tries to match. Play continues until one person has just one die left. They have to say "UNO!" or be penalized by having to draw one or draw two dice.
The first person to get rid of all their dice wins the game!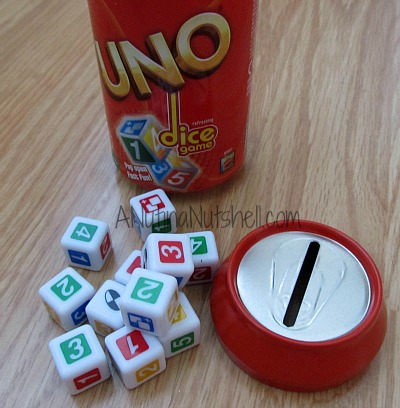 Buy It! Apples to Apples Dice Game
 ($12.11 current price) and UNO Dice Game
 ($8.39 current price) at Amazon. Both are perfect for ages 7 and up and both games self-store in their cans.
I'm not sure which of these two games I like better, so I refuse to choose one. They both translate to a dice game really well, and the twist on the clasic rules is a lot of fun. I also like the fact they store in their own small and portable cans because I often bring games with me when I travel.
Game samples were provided. No compensation was received.All opinions are entirely my own.