I am blown away that I got a sneak peek look at the McCormick Flavor Forecast 2013, and I'm so honored and excited that I get to share that with you before it's announced to the public later today!
You've heard of it right? It's a big, big, big, HUGE deal.
I.am.not.kidding.
Flavor Forecast: McCormick utilizes its vast expertise and global experience in a year-long process  to identify new trends which the food industry will then incorporate into their product lines and decision making over the next few years.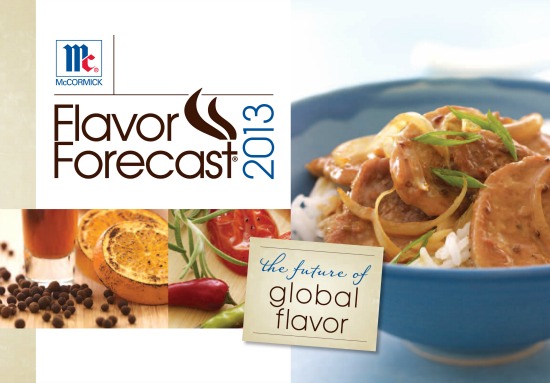 The entire food industry is waiting on pins and needles for the announcement; trust me!  Keep your eyes open too, because we'll begin to see the flavor forecast translated to restaurant menus, recipes, and grocery store shelves.
And let me tell you, some of the 2013 Flavor Forecast flavor pairings are wild, but so intriguing!
The flavor pairings were developed to enhance and support the five new food trends of the year, and as you can see by the recipes McCormick developed using the Flavor Forecast 2013…we're in for a treat!

No Apologies Necessary

Decadent Bitter Chocolate, Sweet Basil & Passion Fruit

Black Rum, Charred Orange & Allspice

Personally Handcrafted

Cider, Sage & Molasses

Smoked Tomato, Rosemary, Chile Peppers & Sweet Onion

Empowered Eating

Farro Grain, Blackberry & Clove

Market Fresh Broccoli & Dukkah

Hidden Potential

Hearty Meat Cuts, Plantain & Stick Cinnamon

Artichoke, Paprika & Hazelnut

Global My Way

Anise & Cajeta (Mexican Caramel Sauce)

Japanese Katsu Sauce & Oregano

 
I got my sneak peek last weekend when I talked to the coolest guy with the coolest job, Chef Mark Garcia. First, he's a chef, second, he works with McCormick, and third, he's a key decision maker in the annual Flavor Forecast.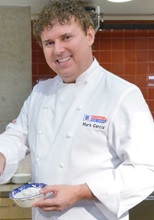 Until I talked to Chef Mark, I had no idea how much influence and importance was placed on the flavor forecast every year.
For instance,  chipotle peppers are everywhere now but believe it or not, they were an unknown before they were placed on the 2003 flavor forecast.
Told ya it was huge! (That's why it's so exciting to be in the know a little early!)
When I asked Chef Mark to describe the 2013 Flavor Forecast in just three words, he used: Global. Fun. Approachable.
And as someone who loves to eat and work with food but hasn't a lick of an inclination to be a gourmet cook, I absolutely love that description. Don't you?
So what do you think of  Flavor Forecast 2013? Which of the flavor pairings is most intriguing to you?
I am honored to be partnering with McCormick to share the Flavor Forecast 2013, and I'll also be creating a recipe using the new flavor pairings which I'll share with you a little later this month. Photo credits: McCormick.