It's quite common for lactose intolerance to appear later in life, and it appears to have taken up permanent residence at my place. I never had a bit of a problem drinking milk or eating ice cream as a child, but boy, howdy, things have changed!
For years I let my lactose intolerance dictate my diet, but I finally discovered that eliminating milk and ice cream wasn't necessary.  LACTAID® Milk is real milk, and I can drink it without the slightest bit of stomach discomfort due to lactose. I LOVE that I can drink actual dairy milk again!! I also use LACTAID® Milk in place of regular milk in my recipes with the same great results.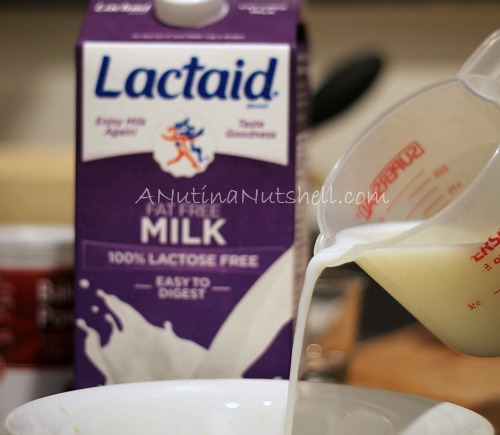 Did you know that LACTAID® Cottage Cheese and Ice Cream are available too? I just found that out, so I haven't had the chance to try them yet. I'm especially interested in the ice cream so I can enjoy milk shakes without getting an upset tummy.
Including dairy in my family's diet is so important to me from both a nutritional and health perspective.
Mark your Calendars!

I'm so excited to be participating in a Google + Hangout with Melissa d'Arabian for LACTAID® Brand and the National Dairy Council on Wednesday, November 5th from 6-7 pm ET, and I hope you'll join me there!

Celebrity chef and LACTAID ® Brand Spokesperson Melissa d'Arabian will be sharing some delicious recipe suggestions for a lactose-free holiday meal. I'm especially looking forward to seeing how she makes Lemon Ginger Pudding! I want to bring it to my Christmas family potluck this year! (I come from a family full of lactose intolerance, so it's gonna score me some huge points.)

I hope to see you there!

November 5, 6-7 pm Google + Hangout with Melissa d'Arabian for LACTAID® and the National Dairy Council
I participated in the Google + hangout on behalf of National Dairy Council and the LACTAID® Brand. I received product coupons from the LACTAID® Brand to facilitate my review.