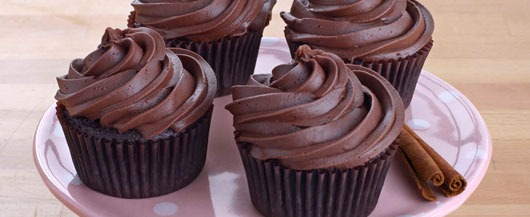 Mexican Chocolate Cupcakes
Now don't get scared! These aren't going to set your mouth on fire. The sweetness of the chocolate perfectly balances the zing of the cinnamon and cayenne pepper to add flavor without heat. The result? Delicious!
Ingredients:
1 pkg. Duncan Hines Triple Chocolate Decadent Cake Mix
2 tsp ground cinnamon, separated
1/4 tsp plus 1/8 tsp cayenne pepper
1 tub Duncan Hines Creamy Home-Style Classic Chocolate Frosting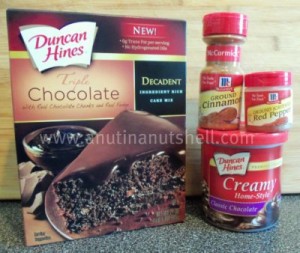 Preparation Instructions:
1. Preheat oven to 350 F. Prepare cake mix as directed. Cake batter will be in one bowl, and cake filling will be in a separate bowl. (Both are included in the cake mix box.)
2. Add 1 tsp of cinnamon and 1/4 tsp of cayenne pepper to the cake batter and mix well.
3. Spoon cake batter into prepared cupcake liners and pan. Fill cupcake tins no more than half full. Spoon 1 teaspoon of filling on top of the batter in the tins. Cover filling with a tablespoon of batter. Tins should now be 2/3 full.
4. Bake cupcakes as directed and cool completely.
5. Prepare frosting by adding 1 tsp of cinnamon and 1/8 tsp of cayenne pepper to each can of frosting that you use. Mix completely and frost cupcakes.
Servings: 14