And in this corner….
Well, I'm lazy, so I'm showing both contenders at the same time (forgivez-moi) but the point is that I put these two frozen lasagna dinners to a head-to-head battle of the tasting kind.
(I had intended to get big ole family-sized meals, but you can only buy what the store sells. Oui?)
Lasagna #1: Michael Angelo's Four Cheese Lasagna
Lasagna #2: Stouffer's Five Cheese Lasagna
Based on packaging, they look equally scrump-dilly. The Michael Angelo's box is much bigger, but don't let that fool ya. (The two meals are just packaged in differently shaped trays and it's really only 1/4 of an ounce larger.)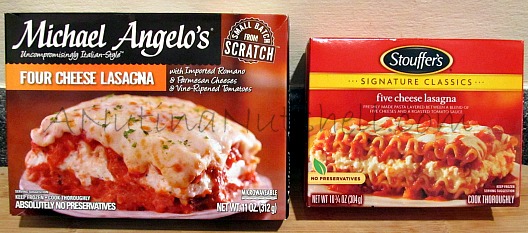 Let's start the fight, shall we?
(And forgive me for the dark photos. It's dark by dinnertime these days, and it's killing me.)

Every single one of the ingredients in Michael Angelo's was recognizable to me. There's also a nice boost of protein and vitamins. Not so much with Stouffer's. I did like the lower calorie and fat content in Stouffer's, but I don't know…the additives and lack of diminished nutritional value might not be worth it.
And let's be honest, if I were making lasagna at home, my ingredient list wouldn't have a single artificial flavor, filler or preservative in it.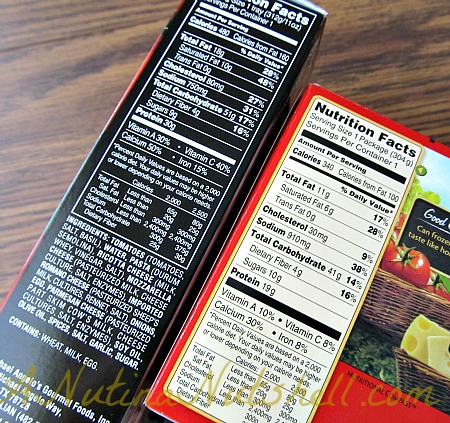 I prepared them both in the microwave and then let them sit for 5 minutes as suggested.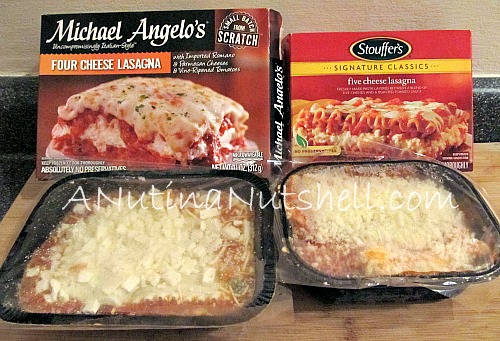 Ohhhhh, I can't wait. I'm hungry!

Because I had cooked them both at about the same time, I really had to bury my nose in them to get their individual aromas. Michael Angelo's was reminiscent of what I am used to in Italian restaurants, and although the Stouffer's was not at all unpleasant, it didn't really scream "authentic Italian" to me either.
Both of the meals looked like there was plenty of sauce and cheese, although the ricotta cheese on Michael Angelo's was much more noticeable and the lasagna had settled nicely. When I sliced into it, there was the perfect amount of resistance to the noodles, so I knew they were cooked perfectly.
With the Stouffer's meal, I felt no resistance whatsoever. It was much soupier, and the mushy consistency was the same throughout.
Let's take a bite.
The first thing I tasted with Michael Angelo's was ricotta cheese, and the overall taste was very much like that I would expect to eat at an Italian restaurant. The sauce was savory, and I could taste the Italian spices. It was darn good lasagna.
The Stouffer's had nice chunks of tomato (which I love) and the slightly sweeter sauce was plentiful, but the meal looked like I had just poured it out of a can. It was sort of a big pile of smush. And if there was ricotta cheese, it wasn't identifiable as such. It was more of a cheese cream.
Overall Results: I liked them both, because quite frankly, I'll eat Italian any which way you choose to serve it to me. That being said….
I preferred the taste of Michael Angelo's lasagna.
It's also priced higher in the store, but the old saying of  "you get what you pay for" is absolutely true. If you're looking for an inexpensive option and you don't really care if it has a more generic taste, then Stouffer's is your bag.
But if you're willing to pay a touch more for an authentic, more homemade-style Italian dinner, then you've got to go with Michael Angelo's. Without a doubt.

Have you ever tried either of these frozen lasagna meals? Do you agree with me?
I was provided with a gift card in order to purchase the frozen meals for this taste test, but my opinions are all mine, baby. All mine.