I always choose green, non-toxic and environmentally responsible products, said the big fat liar with her pants on fire.
How about the opposite of green? Nah, that's not me either.
I'm thinkin' I'm at about the 45 degree angle of green. Yep, I'd say I'm somewhere in that mud puddle.
But hey, at least I tell the truth about it!

I decided to work with MightyNest because they're dedicated to helping parents create healthy, safe homes by being an online store, resource center and community of encouragement and support, not judgment.
Founded by two parents, their mission is to give families the ability to research, get advice, and buy high quality, natural, non-toxic everyday products all in one place.

From kitchenware to skin care, MightyNest's safety experts have built the web's broadest selection of products that are free from known toxic ingredients such as BPA, PVC, Phthalates, Lead, Melamine, Formaldehyde, Parabens, and more.

MightyNest seeks to help people feel motivated and empowered to make changes in their lives, whether large or small.
In my house, I know that I need to work on replacing some of the dishware my mom gave me way back when I was in college. Pretty sure it's riddled with toxins.
So why do I keep it?
I'm a sentimental sappy sapsucking sapsucker of a sap, and the dumb dishes have love and memories all woven in and out between the toxins.
My heart says "keep 'em", but my brain says I'm an idiot.
So I started to pin. I'm pinning to win.
And so can you!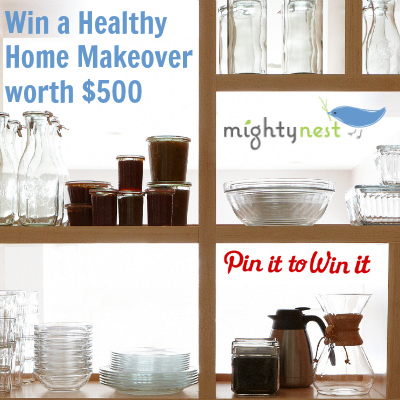 Basically you just repin your favorite items from MightyNest's "Healthy Home Makeover" board onto your own Healthy Home Makeover board. There are things for every room in the house, so believe me, it's easy to find things you'll like.
How simple is that? But yeah, go check the rules on the exacts, cuz rules are rules.
And here are all the other ways you can link up, follow, and obsess over MightyNest!
MightyNest's Links
GIVEAWAY!
Enter the MightyNest $500 Healthy Home Makeover Giveaway!

a Rafflecopter giveaway
Compensation is being provided by MightyNest for my time. All opinions are my own.