Monster High fans….get ready for the release of 13 Wishes on Blu-ray and DVD with a creepy countdown now through October 8th!

Visit the site where you'll find 13 sealed lockers, and every day a new one will be unlocked. You'll find spooky and fun activities along with a new chance to win a prize!

You can also get a "Freak Peek" at the new 13 WISHES, so don't miss that either.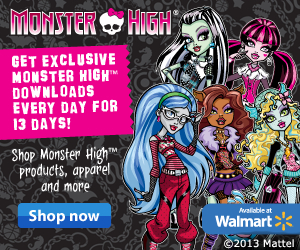 If you like fun games, if you like fun prizes and if you like Monster High dolls….you've got to visit the countdown every day!!!
I've been checking out the daily surprises and they're fun! My favorite so far is the mash-up " How to Create Your Monster High Name". Mine is Scarah Bominable!
Find out what your mash-up Monster High name is! (Look in the September 28th locker.) And enter to win prizes!
This post is sponsored by Lunchbox. All opinions are my own.