If you love Pictionary, you'll love Morphology! You don't create art with a pencil, you use shapes and pieces! There's a barrel, 8 wooden sticks, 4 wooden people, 2 circles, 16 glass beads and 20 cubes.
And your imagination!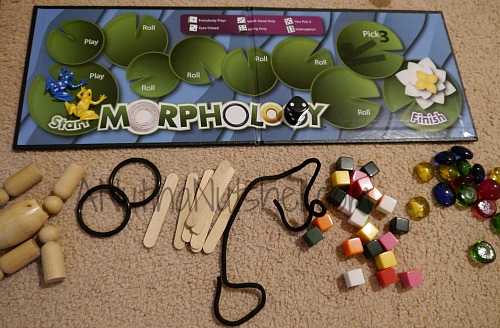 Players team up and one is the "morphologist" for that round – ie. the builder. That person draws a word card from the deck, builds it using the pieces, and then gets their teammate(s) to guess the word before the timer runs out!
Each of the word cards has an Easy or Hard option and include words like this: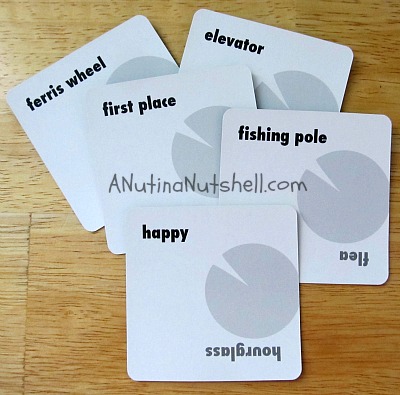 It's so much fun to be creative and "morph" the objects to express the word! You can't spell out the letters, say anything, or interact with the pieces like charades but you can make noises (within reason) and act as a puppeteer with the pieces.
For instance, instead of trying to make a basketball hoop on the ground (3rd example below), I could have (and should have) held up one of the black circles and then tossed a cube through it like I was shooting hoops.
Oh well…. it's all about thinking fast and it's so neat to see how differently everyone thinks. This game is a blast!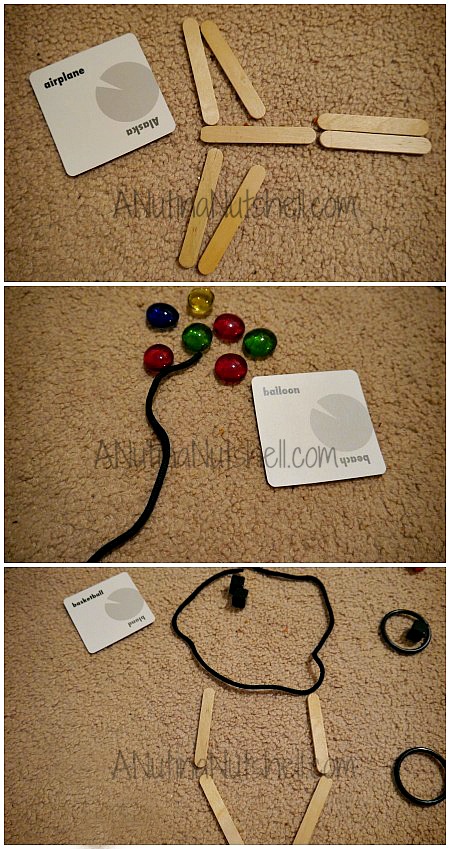 When someone guesses your word, you advance a lilypad space on the game board. You might have to build with only your weak hand, close your eyes, or use only certain pieces to do it.
I'll say it again; this game is a blast! I can't wait until my daughter gets here for Christmas so we can play it together. I know she'll love it as much as I do.
FYI: The game is for 4 or more players, however alternate game play rules for one, two, or three players are available on the website.