When I looked at all the Nestlé holiday candy I've been accumulating for my kids' stockings, I couldn't resist busting open a bag or two. I wanted to make these candy cane chocolate chip cookie sleds I found on Nestle's website.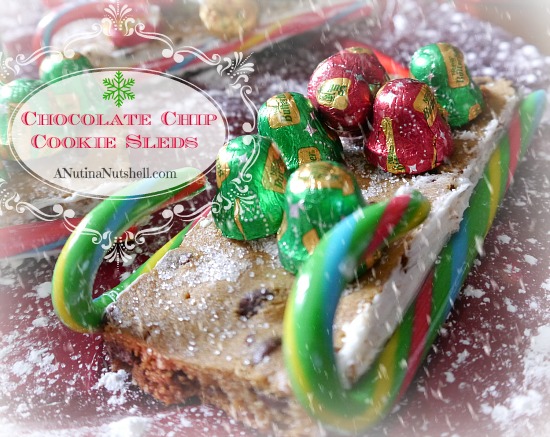 I began with all of this candy…. Nestlé's got holiday handled, don't ya think?
So back to the recipe…. it calls for using their Toll House Refrigerated Chocolate Chip Cookie Bar Dough. It's the kind that comes as a square with all the pull and separate cookies. If you can't find it, you could probably use the tube and then just smoosh it into a square-ish shape.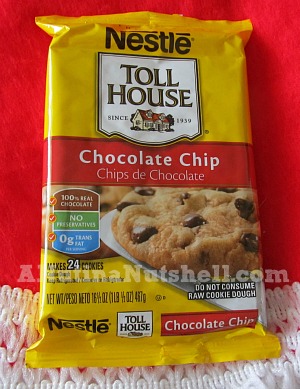 Nestle Chocolate Chip Cookie Sleds
Ingredients
1 package (16.5 ounces) NESTLÉ® TOLL HOUSE® Refrigerated Chocolate Chip Cookie Bar Dough
1/3 cup ready-to-use white frosting
20 (5 1/4-inch) WONKA SweeTart Candy Canes
NESTLÉ and WONKA assorted Holiday Candy
Edible white glitter (optional)
Directions
1. Preheat oven to 325° F. Grease or foil-line a large baking sheet.
2. Place whole bar of dough on prepared baking sheet. Allow to soften for 5 to 10 minutes. Using fingertips, pat dough gently to form an 11 x 8-inch rectangle.
3. Bake for 18 to 20 minutes or until light golden brown. Cool on baking sheet for 10 minutes; remove to wire rack to cool completely. Gently slide cookie onto cutting board. Trim edges of rectangle as needed.
4. Cut cookie into 4 x 2-inch rectangles, or to about the length of the candy canes you will be using. Cut smaller rectangles for mini candy cane sleds. Use frosting on backside of cookies to attach candy canes.  Let stand for 30 minutes or until set. Once set, turn the sled over so the candy canes are on the bottom.
5. Fill sled with candies and sprinkle on glitter to look like snow. [I used white sanding sugar to keep it edible.]
I made several of them and then went searching the Christmas tree and toybox for little trinkets to add.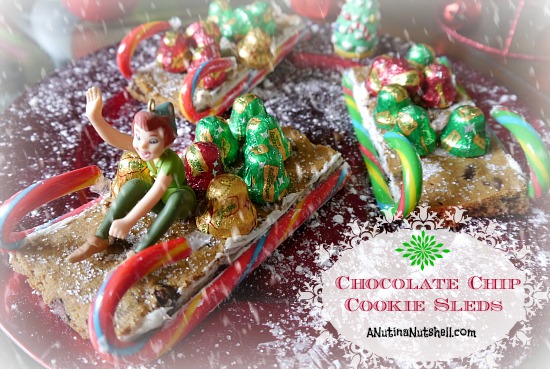 Have fun!
Nestlé provided candy and holiday inspiration. All opinions are my own.