When I start to recognize the signs of a failing router, I come a bit unraveled.  If I'm working on something important or time-sensitive, the intermittent disconnections send me into full-scale kicking, screaming tantrums (in my mind).
Outwardly, I just mutter something off-color and go reset the router. Again. And again. And again.
I'm pretty sure failing routers get a kick out of dropping their signals.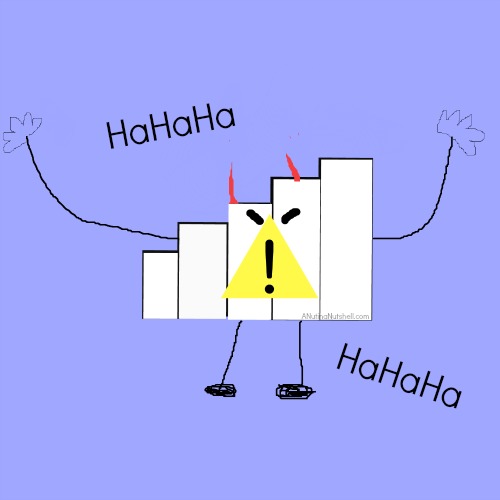 Fortunately, NETGEAR was kind enough to put me out of my misery by sending me a Nighthawk! It's the Nighthawk AC1900 Smart WiFi Router and it's built for extreme speed and reliability.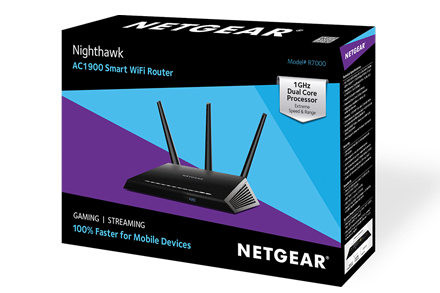 Unlike NETGEAR routers I've had before, this one is made for horizontal use (although it can be wall-mounted). With its trapezoid base and angular lines, it reminds me of the old Lockheed Nighthawk fighter jets. Stealthy!
I despise installing new electronics, but thankfully this was a simple and painless process in spite of the fact there wasn't a detailed manual to follow. The three external antennas screw into the back and can be angled to amplify WiFi strength where you need it.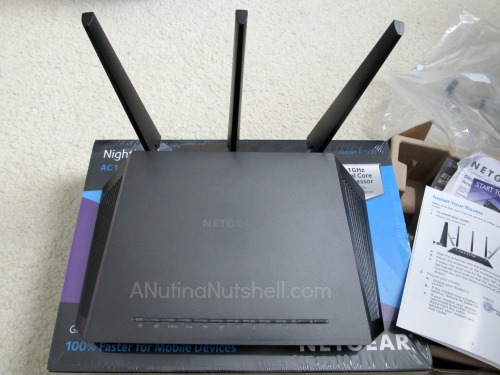 I had it up and running with a newly created secure connection in less than 15 minutes and I didn't even swear once.
It has beamforming technology to focus WiFi signals for better speed, range and reliability. I honestly don't really know how that works, but I'll tell ya that upon connecting my desktop, three laptops, two tablets, two printers, a land line phone, three TV's, a Roku player, two DVR boxes and my cell phone, I still had a slam-bangin' fast connection on everything!
And that my friends, is all that matters.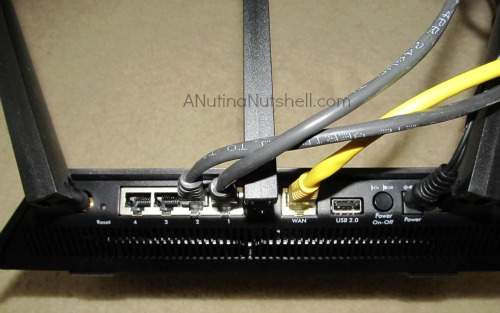 Ok wait, I take that back. There's more that matters – the quality of the video streaming. There's nothing more annoying than watching a gripping scene in a movie and the internet signal starts buffering. Or worse yet, the whole connection drops.  Aaaaargh!!! The Nighthawk router's QoS prioritizes bandwidth for streaming videos and music.
The Nighthawk also stands up to hard-core gaming with its 1 GHz dual-core processor and speeds up to 1900 Mbps. The QoS prioritizes both upstream and downstream traffic for the best gaming experience.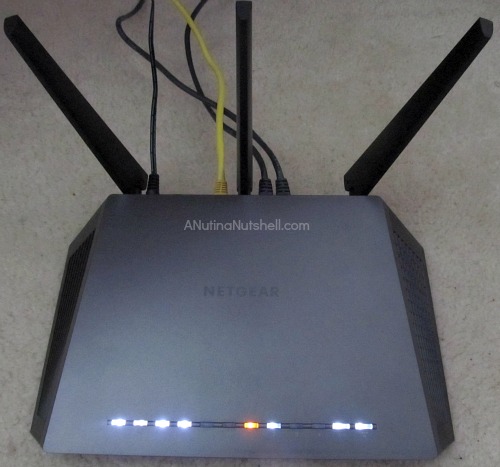 As much as I love the reliable connection and the world's fastest WiFi speed, there are a few other features which definitely deserve mentioning:
Ready-Share USB Access to share a printer and hard drive across the network (Two USB 2.0 ports and a superspeed USB 3.0 port)
NETGEAR Genie app to monitor, control and repair your home network (also makes any printer Air Print compatible)
High-level WiFi security with guest internet access option
VPN support
Parental controls
WPS push-and-connect WiFi set-up
If you're looking for a router that can easily handle a multitude of devices and their high data demands, this is it – the  NETGEAR Nighthawk AC1900 Smart WiFi Router.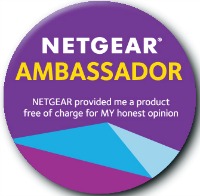 What devices do you have hooked up to the WiFi at your house?