You know why I love JELL-O pudding snacks? I mean, besides the obvious get-in-my-belly-right-now taste?
It's because whenever I go through a phase (and sadly, they really are phases) when I'm eating healthfully, I can still indulge my sweet tooth with dessert!
And now there are two new JELL-O pudding snack flavors: S'more and Strawberry Sundae.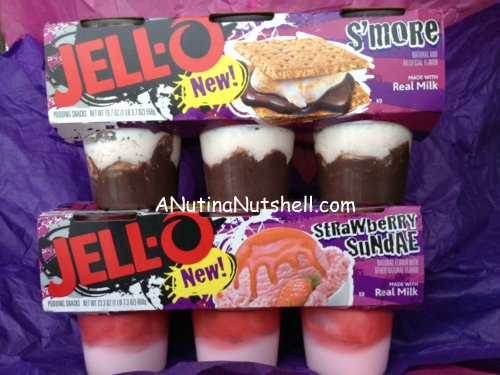 See how they're layered? Two different flavors and textures that you can eat separately or mix all together for an even yummier flavor!
JELL-O S'more Pudding
My chocolate love won out first so I dove right into the S'more pudding. The top is like a whipped marshmallow, and the bottom is a creamy and delicious chocolatey s'more sensation.
I tasted each layer separately, but then I had to mix it all up.  I kid you not when I tell ya that this tasted exactly like s'mores. The graham cracker flavor is totally in there, but without the crumbs. I don't know how they did it, but it's yummy, yummy!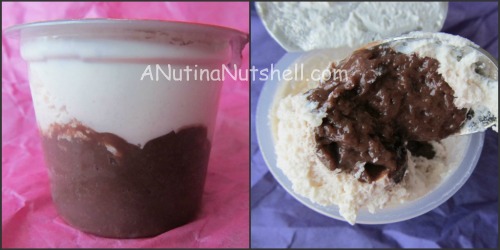 JELL-O Strawberry Sundae Pudding
A layer of smooth strawberry sauce sits atop a layer of strawberry ice cream flavored pudding. But not for long! I didn't even taste these two separately; I mixed it all up right away and the combination was outstanding.
It's much sweeter than the S'more pudding, but I don't mean that in a bad way. It was absolutely delicious, and once again it tasted exactly like a strawberry sundae. Unbelievable!
Note: This pudding is a little thinner in consistency so be careful when you peel the foil lid back.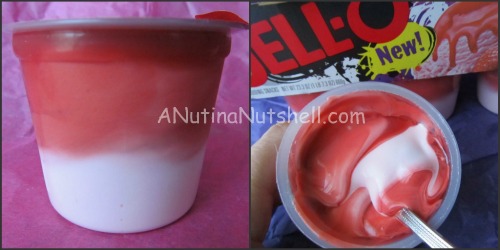 Each individual dessert cup has just 110 calories and 1.5 – 2.5 grams of fat, so there was absolutely no guilt involved. I really didn't expect to like them both as much as I did.
I'm pretty sure you and your kids will love them too. Look for them to appear in the refrigerated section of nationwide stores.