Thank you to NewAir for providing me with a review unit. All opinions are mine.
When I moved into this house, the central air was broken. Alas, so was my spirit…
Now that it's repaired, the central air she doth blow, but sometimes she doth not blow strongly enough to face the fury of summertime.
So she needs a little help from my new safeguard against repeat misery, this NewAir 10000E portable air conditioner. I keep it near me. Just in case.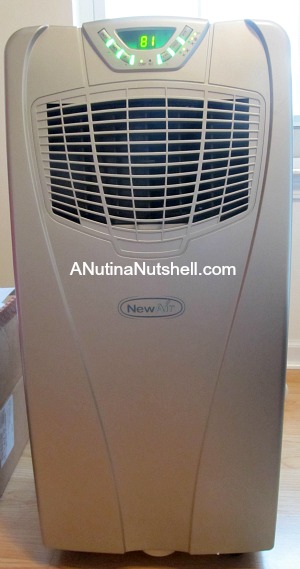 On really humid and miserably hot nights, I roll it (yes, it rolls!) into the bedroom and pump cool air in there so I'll sleep like a baby, and then in the morning, I roll it right next door into my office and set it up in there.
The office has an east-facing window so it heats up the second the sun rises, and now I can bring that air temp right back to pleasant with the push of a button.
I'm not one for fussing with things, so it's fairly remarkable that I'm willing to move the air conditioner from room to room so often. But like I said, the unit rolls AND it slips in and out of the window in seconds. (Not to mention that any screens you have in place can stay there!)
The window fitting slides to accommodate multiple window sizes too.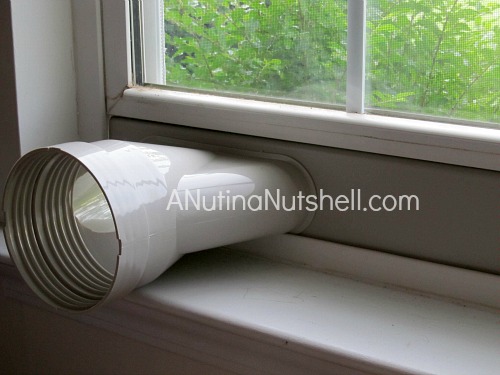 I wish it had a sleeker, more modern design because let's be honest, it looks like something that could be found in a great great grandmother's attic under a pile of dust, but hey… it works, and really, that's what matters.
It sends out a good strong rush of cold air through the vent, and the temperature, fan speed and cooling mode are easily adjusted by pushing the buttons on the panel front or with the included remote control.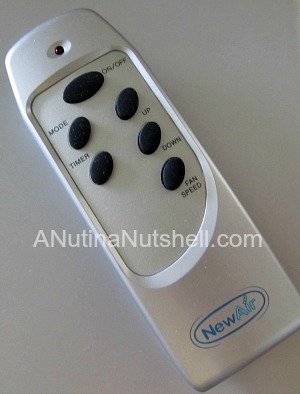 One odd thing is that the compressor seems to turn off several degrees before reaching my desired temperature, so my way around that is to adjust the temperature lower than I want. (Not sure if that quirk is unique to my unit or not.)
It has a 12-hour programmable timer, which is a nice perk, but that's a feature I haven't played with yet.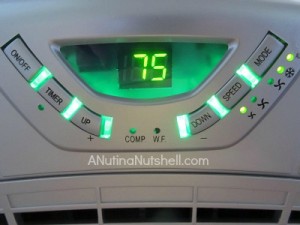 In terms of noise, well, yeah, it's noisy, but not any more so than any other air conditioner I've ever used or been around. It's the price you pay to keep cool.
There's an adjustable exhaust hose which fits into the back of the unit and then into the window kit. FYI: Attach it to the machine first (by screwing it into the grooves) and then attach it to the adapter (which snaps into the window kit). Trust me on that.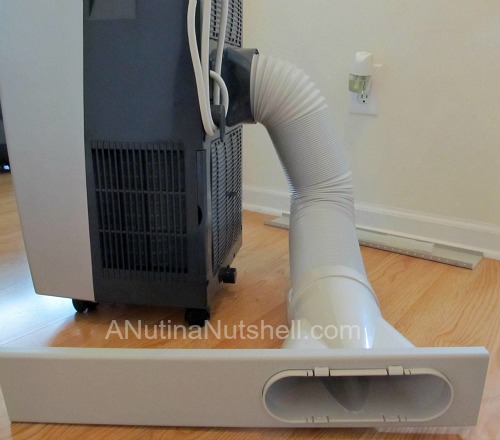 As far as condensation is concerned, the unit is designed to evaporate and expel most of it through the exhaust hose. So unless you're dealing with really high humidity, drainage shouldn't be a problem and you'll be able to leave the plug and cap in place over the drainage port.
On those super humid days, you can use the flexible tube to drain moisture into a container,or you could slip a very shallow pan underneath to catch it. I was paranoid and put a pan underneath, but I've never seen any water in there.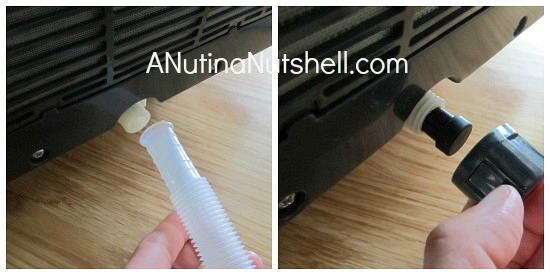 Easy cleaning: The intake vents have simple to pop-off panels allowing you to quickly remove and clean the active carbon filters.
The NewAir 10000E portable air conditioner (10,000 BTU) is designed to cool a space of up to about 325 square feet and it does a good job of that. I've been finding it super easy to use and its rolling portability is a blessing!
Buy It: I found it available for sale at Amazon
for $379.95 and at New Air for $399.95. You can also visit NewAir for a complete list of where to buy it.
Have you ever used a portable air conditioner?