When T-fal contacted me about cooking with the OptiGrill electric indoor grill, I was intrigued. It has automatic cooking sensor technology built into it, and since I'm a girl who is very, very picky about the doneness of her meat… I was high fivin' life when the machine arrived.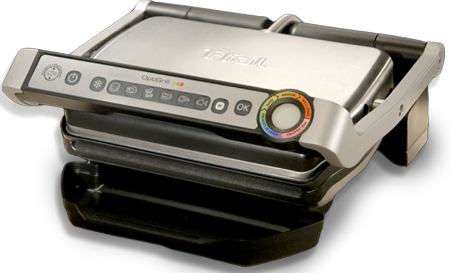 There's nothing like cooking on an outdoor grill, of course, but for many of us, weather patterns mean grilling season is fairly short-lived. And that's exactly what led me to start buying indoor grills over ten years ago.
Let's get right to the bells and whistles of the OptiGrill for that's what sets it apart from the competition.
Precision Grilling Technology – The OptiGrill automatically senses thickness and regulates temperature so that food is cooked to perfection every time.
Automatic Sensor Cooking
There are six auto-sensor cooking modes: Burgers, Poultry, Sandwiches, Sausage, Steak and Fish, along with a Manual mode for veggies or fruit.
Easy to use
Plug it in, turn the power on and then press the button for the food you'll be cooking.

The indoor grill unit takes several minutes to pre-heat, and then beeps to let you know it's ready. The cooking level indicator changes color as it moves through the stages.
Cook from Frozen Setting
If you forget to defrost your meat, no problem! Push the snowflake button and the OptiGrill will cook from frozen!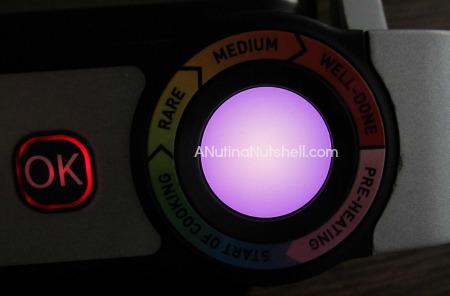 Cooked to Perfection
Once it's pre-heated, put your meat inside, close the lid, hit ok and let the grill start working its magic. The grill beeps as it reaches each level of doneness: Rare, Medium and Well-done. Within each range, the color level intensifies as it moves to the next doneness level, so if you like your steak cooked somewhere in the middle, you can gauge that easily.
One thing to note…the grill appears to be calibrated to the "true doneness" scale, not to restaurant doneness (which leans slightly to the well side) so keep that in mind when deciding on your stop time.
Don't you love those deep grill marks? I do!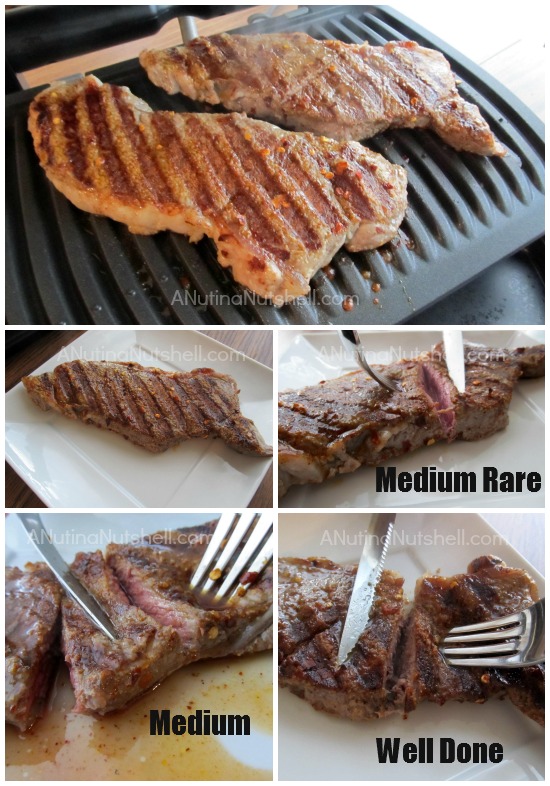 I absolutely loved that there wasn't any guesswork on whether the steaks were done. The sensors did all the work, so I could cook my boyfriend's steak to medium while leaving mine on to cook longer. It was so nice not to have to cut into them while they were cooking to figure it out.
Since I am a weirdo who likes meat cooked to the point of "snapping," once my steak beeped at well-done and stopped cooking, I switched to Manual mode to crisp that baby up. It only took a few more minutes. 🙂
Locks in Moisture
One thing I really appreciate about the OptiGrill is that it's much better at cooking meat properly without leeching the moisture out of  it. It does that by searing at a high temperature which locks in those flavorful juices, and then it finishes cooking to the desired doneness at a lower temperature. My other indoor grill is horrible about that, and dries everything out really quickly.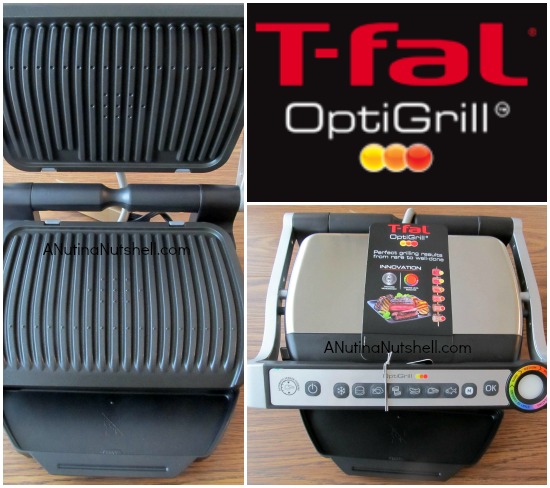 Easy Cleaning
The OptiGrill's nonstick aluminum cook plates are angled for easy drainage, and the drip tray slides into the grill which is a huge improvement over my other grill which is constantly leaking or getting bumped out of place.
The cook plates and drip tray are also removable and dishwasher safe making clean-up a breeze.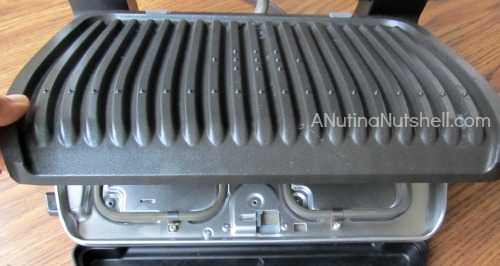 Buy It: The OptiGrill by Tfal comes with a 60-day money back guarantee. It's priced at $179.95 but can be split into 5 payments if purchasing directly from getoptigrill.com

Connect socially with OptiGrill on Facebook too.
Which feature do you think you'd like most about the OptiGrill electric indoor grill?