As a sucker for a good romantic movie, I couldn't wait to see LABOR DAY, starring Josh Brolin and Kate Winslet. With the Blu-ray/DVD combo in hand, I called the boyfriend and asked if he wanted to come over and watch it with me that night.
Being a typical dude, he replied, "Can't we rent an action movie instead?"  *sigh*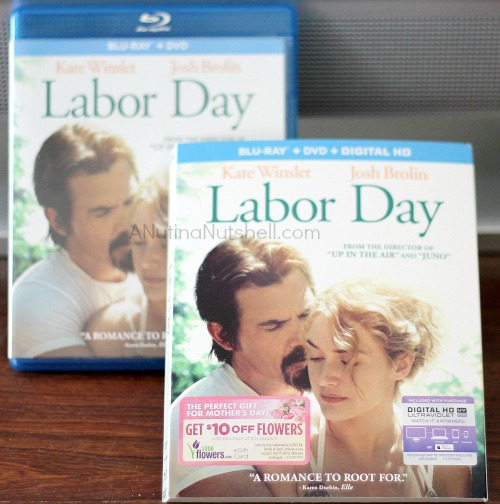 He left me no choice. I had to sweeten the deal. Having heard about the sexy peach pie recipe so prominently featured in the film, and knowing how much the boyfriend loves peaches, I offered to make him a sexy peach pie.
Now I know what y'all must be thinking. Too much work for a movie snack. (Ha!) But it really wasn't! I had fun.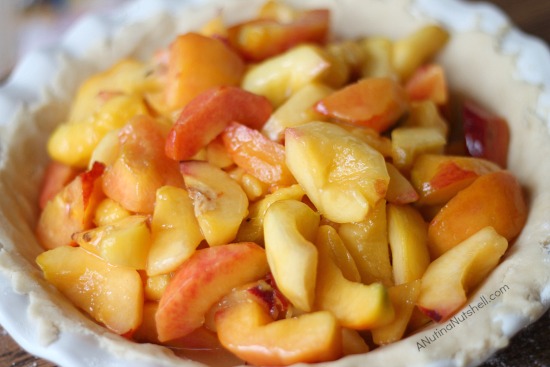 My golden brown bribery tool complete, we sat down and watched LABOR DAY. At first I could see the wheels in his head turning. Where's my pie? Where's my pie? 
Then an amazing thing happened. He kept his mouth shut, and quickly became interested in the movie. Astounding, I say! But I understood why. LABOR DAY grabbed us right away and never let go. It moved a little slowly at times, but it was very well-acted and full of family love, teenage angst and peach pie!
It was a wonderful coming of age story, one of my favorite movie genres.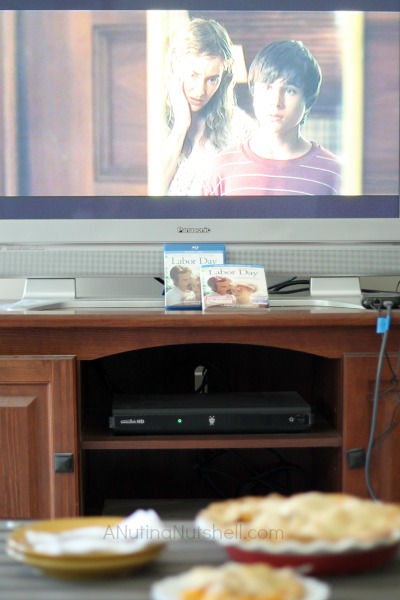 Once we hit the peach pie scene in the movie (which is a bit steamy, y'all), I paused to get my sweetie some pie, and he complained about the interruption. *sigh*
After reminding him that he had suggested (almost begged for) some other film genre, I served up a nice helping of peachy heaven, and we watched the rest of the movie.
I might have even spotted a tear in his eye at one point, and I'm pretty sure it wasn't a result of my baking skills.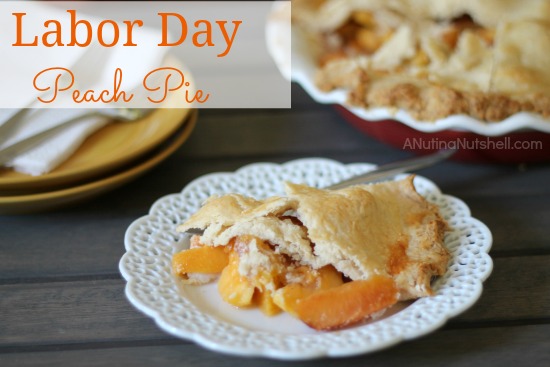 Here's the official Labor Day Peach Pie Recipe. Get a copy of the movie, bake up a sexy peach pie and enjoy!
LABOR DAY Peach Pie Recipe

Ingredients:

3 pounds peaches
3/4 cup sugar
2 tablespoons fresh lemon juice
3/4 teaspoon ground cinnamon
3 cups all-purpose flour
3/4 teaspoon salt
1/2 cup Crisco vegetable shortening
1 stick plus 1 tablespoon chilled butter, cut into pieces
1/3 to 1/2 cup ice water
2 tablespoons Minute tapioca (plus 2 additional tbsp to stir into peaches)
1 beaten egg
1 tablespoon sugar

Directions:

1. In a large bowl, combine the peaches, sugar, lemon juice, and cinnamon. Stir in 2 tbsp Minute Tapioca to help absorb juices. Let stand, stirring occasionally.

2. Preheat the oven to 400 degrees. In a large bowl, mix the flour and salt. Using a pastry blender, work in the shortening and 1 stick of butter until the mixture resembles coarse crumbs. Sprinkle 1 tablespoon of ice water over the flour mixture, stirring gently with a fork. Continue adding the water just until the dough holds together. Shape the dough into a ball and divide it into two discs, one slightly larger than the other.

3. Place the smaller disc on a sheet of waxed paper, and use a lightly floured rolling pin to roll the dough into a 12-inch circle. If the dough sticks to the rolling pin, dust it lightly with more flour. Lay a 9- to 10-inch pie pan face down on top of the circle; flip the pan over and remove the paper. For the top crust: On a sheet of waxed paper, roll out the other disc to form a 14-inch wide circle. Do not roll the dough more than necessary.

4. Sprinkle the tapioca on the bottom crust. Add the filling, mounding it in the center, and dot with 1 tablespoon butter. Lift the waxed paper with the remaining crust and flip it over the filling. Peel back waxed paper. Trim the edges of the crusts and pinch togther the top and bottom crusts. Brush the pie with the egg. Sprinkle with sugar. Poke fork holes or cut vents in the top crust. Bake 40 to 45 minutes, or until golden brown. Serve warm.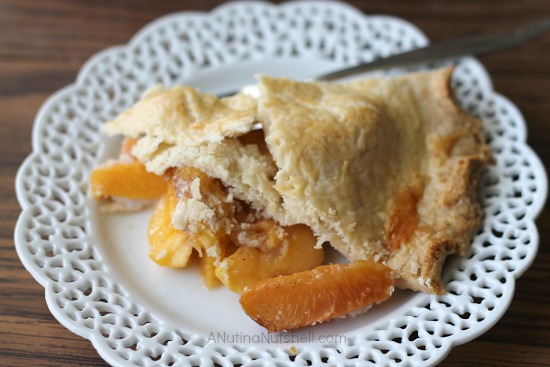 Have you seen LABOR DAY yet? Will you watch it for "date night" or have a girls' night in?
A Labor Day peach pie gift pack was provided. All opinions are my own.